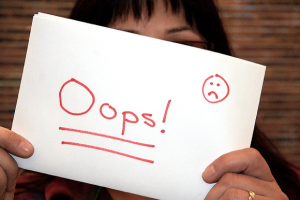 Source: Kate Sumbler, Flickr
If you read the CMI blog on Friday, you saw that we wrote about how attendees could get the most from an expo hall at an event. But how can booth sponsors and representatives make the most of the relationships they have built at an event, and nurture the leads they receive? Traci Browne, author of The Social Trade Show, offers up her thoughts.
Two Mistakes Exhibitors Make and How To Fix Them
One of the biggest mistakes companies make is to come home from an event, look at a pile of unqualified leads and throw up their hands in defeat. Why is this a mistake? Because you can't fix something if you don't know what is wrong.
Mistake #1: No mechanism in place to qualify leads. Simply scanning a badge of a booth visitor does not a qualified lead make. All that gives you is a name and contact information. It doesn't tell you anything about the person who stopped by your booth.

Fix #1: Put a plan in place for how future leads will be collected and specify categories such has "hot prospect", "sales lead" and "marketing lead." Nothing will stop the follow-up process faster than a sales rep calling on leads only to find out they were only interested in your give-away.
Mistake #2: Leaving follow-up to chance. Once you return from an event, catching up on work takes over. Lead follow-up gets pushed to the back burner thinking you'll do that tomorrow. Tomorrow turns into next week, which suddenly turns into next month.

Fix #2: Before you go to your next event make sure you have a lead follow-up system in place. Specify who is ultimately responsible, when each category of leads will be followed up, and who specifically will be doing that follow-up. The person who is ultimately responsible must make sure nothing is slipping through the cracks.
Mistakes are okay; it's how we learn. What's important is to understand how those mistakes occurred and what steps you are going to put in place to make sure they don't happen again.
Have You Prioritized Your Leads?
If you have not yet followed up on your Content Marketing World leads, or any other event leads for that matter, don't let another minute pass. To do your follow-up in the most effective way possible, you first want to put all your "leads" into appropriate categories.
At the very least, separate your leads by "hot prospect" (someone who has expressed immediate interest in your products or service), "sales lead" (someone who is in the market to buy, but still doing their research), and "marketing leads" (someone who may one day be in the market to buy your product or service).
Hopefully, you took notes on the conversations you had with your potential customers. If a hot prospect told you, "have someone call me when I get back in the office" then you should be calling them, not emailing them a thanks for stopping by note. If they asked you to send over pricing information they could pass along to their boss, send over pricing information, not an invitation to a webinar you are hosting next month.
Once you have taken care of the "hot prospects" it's time to move on to your "sales leads". Start a conversation with these people and find out what they are specifically looking for. Even though they may not be ready to make a decision right now, get on the phone while they still have a memory of talking to someone in your company at the conference.
Finally, enter your marketing leads into your CRM system so you can continue to stay in touch with them as you move them through their buying cycle.
Effective lead follow-up is all part of tracking the value of your investment in your sponsorship.
Traci Browne, Author of The Social Trade Show
Are you ready to take the leap and consider a sponsorship at Content Marketing World 2016? There are many great options available, and we'd love to see you this September. Visit our website for sponsorship opportunities and contact information.
The post Conference Sponsorships: Lead Nurturing appeared first on .