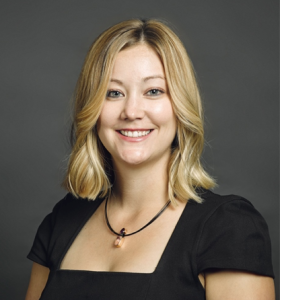 As Joe Pulizzi says, he wants to make Cleveland the Content Marketing Capital of the World. As luck would have it, Northeast Ohio is home to many of the brightest content marketers anywhere. With so many leading brands invested locally in content marketing, it's no wonder that the Cleveland area continues to deliver incredible content on a consistent basis. I was initially drawn to Alysse Love of Westfield Bank because Westfield caught my eye – and my sister works there (It's just a few degrees of separation for many of us in Cleveland!) – but I really enjoyed chatting with her to learn more. Have I mentioned how much I look forward to these interviews each week? Read more about Allyse:
Name: Allyse Love
Title: Digital Content Administrator
Company: Westfield Bank
Is 2016 your first trip to Content Marketing World?
No – 2015 was my first CMW. I went in bright eyed and bushy tailed, ready to dip my toe into content marketing for the first time.
What is bringing you back to CMWorld in 2016?
This year, after a total indoctrination into this important piece of marketing, I'm hoping to be more refined with my company's needs and how to dig deeper into the facets that can directly affect us and our customers. Last year was great to get an overall feel of what content marketing is and can be – this year, I can walk in with specific goals and tasks in mind to get more into the minutiae.
How did your career lead you to content marketing?
At Westfield Bank, it is my job to maintain our new website through both new content and graphics as well as the always updating regulatory needs. Content marketing is a big part of that, and understanding the industry best practices and tools can only make my job easier and more efficient.
If you switched careers today, what would you be doing?
I would start a B&B with my husband. We would make guests an amazing breakfast every morning, and we would totally have goats.
What is your biggest content marketing challenge?
Balancing our compelling story with the heavy regulatory burden of working in the banking industry. I enjoy writing and storytelling, and best practices of content marketing can help me keep the integrity of that practice while still keeping our compliance and legal teams happy.
Where is one place in the world you'd like to visit? Why?
I have always wanted to go to Tokyo – the food, lights, culture, design – all of it is so intriguing.
If you could sit down with one person in our industry, who would it be? What would you want to ask?
I saw Kristina Halvorson speak last year and she blew my mind. Especially in my role, really, truly understanding the web is quite important for Westfield's success.
What is one orange item in your life you can't live without?
I love writing in colored pens – it makes my note taking and to-do lists a lot more lively and manageable. Orange is a bright and necessary color in that rainbow!
Be sure to say hi to Allyse when you see her at CMWorld 2016!
To meet Alysse and other members of our #CMWorld community in person, register now for Content Marketing World 2016! September will be here before we know it, and take advantage of great prices now! In fact, BLOG100 saves $100 off of current pricing! Questions? Please leave a comment here, or email cathy [at] contentinstitute.com.
The post Get to know a #CMWorld 2016 attendee: Meet Allyse Love appeared first on .