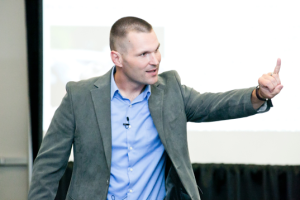 You may have heard that sales and marketing need to be well coordinated in order for content marketing to work well, and that's certainly true. But can salespeople use the best practices of content marketing to help grow their own practice (and sell more)?
You'd better believe it!
While most of the examples shared about content marketing come from the marketing branch of the organizational tree, there are many examples where salespeople have created and distributed great content for a specific audience and successfully built their customer base (and sold lots and lots of stuff!).
One of the more famous of these is the story of River Pools and Spas and its owner, Marcus Sheridan, also known as The Sales Lion. We're not sure where his loyalties lie between sales and marketing, but suffice it to say Marcus isn't known as the marketing lion.
You've heard the story, right? As the economy was slowing in the Great Recession, Marcus realized that people were essentially asking the same questions over and over again when they were considering buying a pool. He quickly realized that, if he could document the answers to those questions in a helpful way (e.g. create the right content and distribute it well), it would help him sell more pools.
Boy, was he right. The resulting blog helped his company grow even as the economy wasn't and today, while River Pools and Spas continues to grow, Marcus spends his time helping other brands learn from his experience.
Another example comes from author and speaker Ian Altman. Executives from around the world call on Ian as a strategic advisor on sales and business development. He helps organizations discover how to engage their entire teams to grow business with integrity and shift conversations from price to value.
Ian's book, Same Side Selling, includes a simple but powerful example of content marketing. As Ian writes, many sales metaphors include a game (sports, war games, etc.) but the problem with games is that someone has to lose.
Ian coaches his clients to aim for a common goal with their prospects where both sides can win. As you can imagine, the prospects appreciate it when a brand is more interested in their success rather than simply selling something to them (sounds like content marketing to me).
And, we've all heard that people can routinely get halfway through their buying journey before talking to a human being, even though they may engage with 10 or more pieces of content during that time. Still think salespeople don't need to understand and utilize content marketing?
The good news here is that CMI will be offering sessions specifically for salespeople at Content Marketing World 2016 — including a workshop led by Marcus Sheridan and Ian Altman, cleverly called, you guessed it, The Content Marketing Workshop for Salespeople.
Now how can any self-respecting salesperson miss out on that?
If you're the rainmaker in your organization, we hope you'll join us in September to learn how to turn that sales drizzle into a thunderstorm by incorporating content marketing.
In the meanwhile, you can learn more about Marcus Sheridan by connecting with him on LinkedIn or visiting his blog. And you can connect with Ian Altman on Twitter or by visiting his website.
Now that you're ready to close the deal, let's jump on over to the Content Marketing World 2016 registration page and get started today! Code BLOG100 saves $100 – don't miss out!
The post #CMWorld Speaker Feature + Video: Marcus Sheridan & Ian Altman appeared first on .