Print, digital and in-person events. These are three legs of any content marketing stool. However, only 36% of B2B marketers use print magazines and only 22% use print newsletters. Is this a missed opportunity? This was just one of the questions in yesterday's #CMWorld Twitter chat with Billy Mitchell.
Participants also talked about what benefits print offers that no other medium does and how print can be used during long B2B sales cycles.
For the chat transcript, visit our Storify.
If you want to integrate print, digital and in-person into your marketing efforts, join us at Content Marketing World from September 6 – 9 in Cleveland, Ohio and catch some sessions touching on each of these topics.
And…to see the print arm of the Content Marketing Institute, subscribe to Chief Content Officer magazine, our free bi-monthly print magazine.
Here were a few outstanding takeaways from our #CMWorld Twitter chat with Billy Mitchell: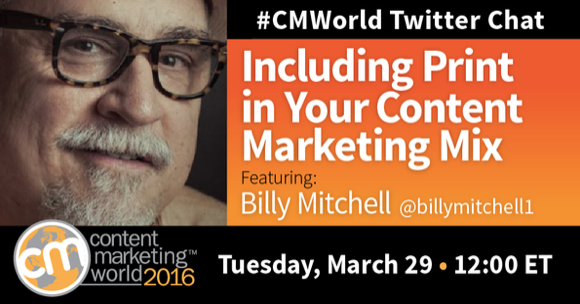 Know your audience and how it responds to print; know your demographic (many said "older")
A1: Print has a place if it fits the learning style and desires of your target. Know your audience. #CMWorld #contentmarketing

— JulieY (@JulieY) March 29, 2016

Tactile-nature of print
A1: There is room for print, when done correctly in a way that provides value. People still like the tactile feel of print#CMWorld

— The Gary J. Nix ® (@Mr_McFly) March 29, 2016
A3: People love tangible, they love connection – print gives us that capability because it's physical. (1/2) #CMWorld @CMIContent

— Marcel Digital (@marceldigital) March 29, 2016
A3. Print is permanent. People keep, collect, and look at print. #CMWorld

— Reva Minkoff (@revaminkoff) March 29, 2016
Future of print
A1 – Print's role is changing – it has to in order to adapt to digital's rise – but it's not going away. #cmworld

— Jenn Waters (@JennWaters1) March 29, 2016
A2: Marketers have a ton of options for print (brochures, direct mail, etc.) They just need to be creative to stand out #CMWorld

— Searcy Sledge (@SearcySledge) March 29, 2016

Join us on an upcoming #CMWorld Twitter chat soon! They take place every Tuesday, from 12pm-1pm Eastern. And better yet, join our #CMWorld community at our annual in-person meetup/reunion at Content Marketing World. CMWorld 2016 takes place September 6-9, 2016 in Cleveland, Ohio. BLOG100 saves $100 – join us!
The post Including Print in your Content Marketing Mix: A #CMWorld Chat With Billy Mitchell appeared first on .