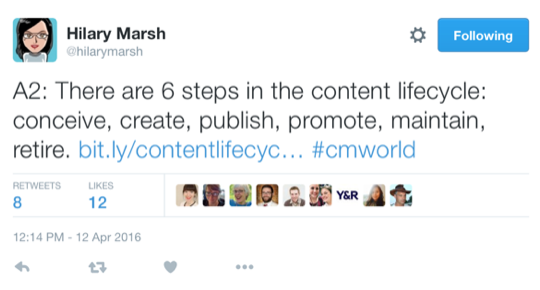 As a marketer, are you thinking about your content's lifecycle — and do you even know what that is? Hilary Marsh, our special guest, tells us, "It's the idea that content is created with a finite lifespan. Lifecycles ensure that content is created to be marketable and that it doesn't stay online after its value is over." Hilary, Founder and Chief Content and Digital Strategist of Content Company, joined our recent #CMWorld Twitter chat to share ideas and resources on how markers should manage all. this. content.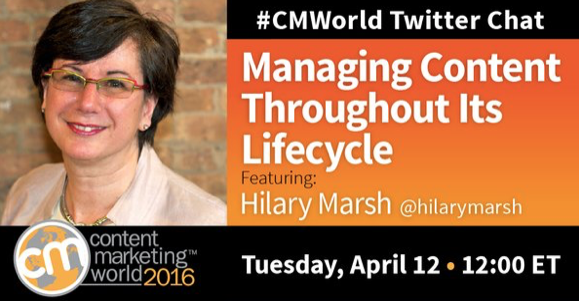 A few highlights of the chat are below. Visit this week's Storify for even more great conversations on this topic.
We asked: What are some of the biggest frustrations when managing content? And two big answers came up:
SILOS
Yep, know this one. Too many silos, too many definitions across org of what content and isn't. #CMWorld https://t.co/qZx0sgm70w

— Mike Turner (@av8r2000) April 12, 2016
@hilarymarsh YES! Unless you've got a 100 technical writers, let content come from the experts. Marketers shape, promote, optimize #CMWorld

— Todd Sledzik (@tsledzik) April 12, 2016
TAXONOMY
A6: Big frustration in managing content = poor content tagging / inconsistent taxonomy & metadata = unfindable. #cmworld

— Shelly Lucas (@pisarose) April 12, 2016
A6. Make sure you use the right tags and think about SEO from day 1. Leaving it til the end can lead to lots of frustration. #CMWorld

— Reva Minkoff (@revaminkoff) April 12, 2016
We also asked: What are some of the biggest frustrations when managing content — and how can these be solved? We had three distinct answers.
A5. I hate team responsibility…1 person must be responsible, otherwise no accountability #cmworld

— traci browne (@tracibrowne) April 12, 2016
A5. Believe it's important to have 2 people w/ "authority." One is the creative (the author). Second is the administrator (process) #cmworld

— Judy Gombita (@jgombita) April 12, 2016
A5: Team effort. It helps when someone has a fresh perspective on content & different knowledge & skills than the original author. #cmworld

— Netvantage Marketing (@netvantage) April 12, 2016
A big thank you to all that joined us today! What great conversations!
If you want to learn more about how to manage content throughout its entire lifecycle, join us at Content Marketing World from September 6 – 9 in Cleveland, Ohio. We'll have 21 tracks fitting all of your content marketing needs, including intelligent content, content strategy and email marketing. Use code BLOG100 to save $100 when you register today!
The post Managing Content Throughout its Lifecycle: A #CMWorld with Hilary Marsh appeared first on .