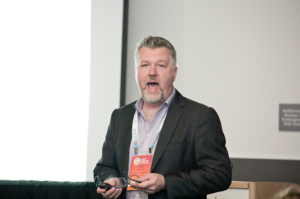 You know Content Marketing World is a great event or you wouldn't be reading this. But here's the problem: there will be more than 225 speakers you could listen to during the show this September…and only four days in which to do it. It's a good problem to have, for sure, but you've got some deciding to do.
Who will you choose? Who's worthy of your time?
Today I'm going to make the case that, while there are many people worthy of consideration, there's one person you absolutely have to see when you're in Cleveland (besides Joe Pulizzi, of course). And that person is Tom Webster.
You may know Tom as the brainiac VP of Strategy at Edison Research, a leading market research and polling firm. Or as the co-host (with Mark Schaefer) of the Marketing Companion podcast.
You may also know Tom as the author (with Tim Hayden of the 2014 book The Mobile Commerce Revolution. Or as the co-author and co-host (with Triton Digital) of The Infinite Dial, one of the longest-running research studies about consumer adoption of digital media, like, ever.
The thing with Tom is, you just never know what he's going to say. But you can be sure it's going to be thought-provoking and smart. So, if you don't like writing down smart things or live tweeting when people impart wisdom, then maybe Tom's talk isn't for you.
And if you don't know what to do when you've written all the helpful content (the subtitle of Tom's #CMWorld 2016 talk), maybe you should just attend someone else's presentation this year.
In fact, you can just ignore everything I've said here…just disregard all the reasons you might want to listen to Tom Webster and feel free to check out the other speakers presenting at the same time this fall. That way there *may* still be a seat for me in Tom's talk at Content Marketing World 2016. But, probably not.
Okay, you know you really should go see Tom speak, right?
Race you!
To connect with Tom, you can find him on Twitter, check out his LinkedIn profile or visit his blog, Brand Savant today!
You probably want to register soon so you can choose Tom's session and all the other great sessions you plan to attend. (Session selection starts the first week of June! Current registrants get first dibs on their sessions!) There really are no bad choices at Content Marketing World 2016. So why don't we just jump on over to the registration page to learn more and get started? Don't forget: BLOG100 saves $100!
The post #CMWorld Speaker Feature: Tom Webster appeared first on .