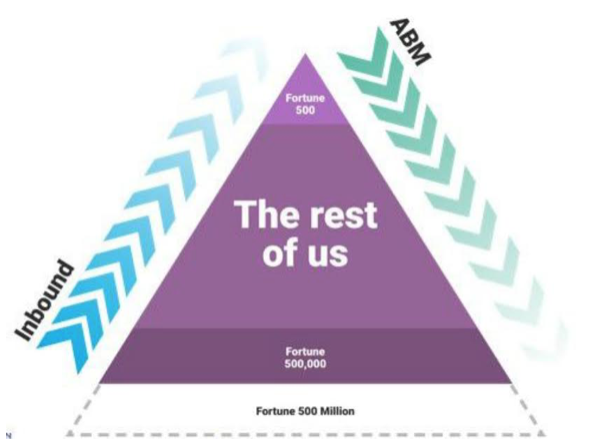 Account-based marketing (ABM) is a hot buzzword in the marketing space. What is it — and how does it complement content marketing? Joe Chernov was the guest at our recent #CMWorld Twitter chat where we discussed the specifics of ABM.
A few highlights of the chat are below. Visit this week's Storify for even more great conversations on this topic.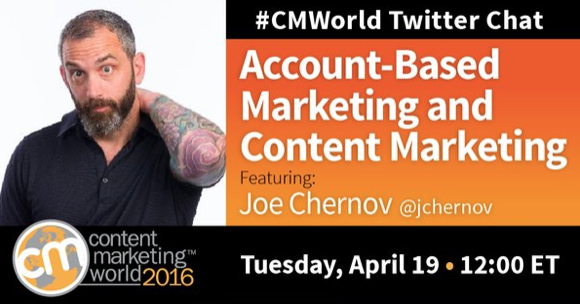 Not surprisingly, this was a new – or fuzzy – concept to many content marketers on the chat, so this was a great lesson from Joe Chernov and some of our more advanced ABMers for the rest of us:
A1: #ABM is the reciprocal of #contentmarketing. ABM works up from account-level; content down from addressable market #CMWorld

— Joe Chernov (@jchernov) April 19, 2016
A1: ABM requires a much closer collaboration between sales & marketing than is typically practiced via content marketing. #cmworld

— Shelly Lucas (@pisarose) April 19, 2016
So…why should ABM be on a content marketer's radar? It's all part of the process:
A2: #ABM & content can naturally align by stage – content gradually gives way to ABM. #CMWorld pic.twitter.com/Gzgye0ZvBT

— Joe Chernov (@jchernov) April 19, 2016
A2: Apply content marketing to overlays between personas in an account. For B2B, ABM is a group sport. #cmworld

— Ardath Albee (@ardath421) April 19, 2016
A3: ABM is good for B2B companies who are targeting a few big accounts. It really benefits teams where sales and mktg are one. #cmworld

— Wayne Hendry (@ideakid88) April 19, 2016
But, in many ways, with tools, processes and logic such as marketing automation already established, we are on the right path for ABM success:
A8: The role of automation in #ABM differs little from #contentmarketing – it matches the right message to right contact #CMWorld

— Joe Chernov (@jchernov) April 19, 2016
A8: Marketing automation can also use triggers across the account based on interest and behavior shown by account contacts #cmworld

— Ardath Albee (@ardath421) April 19, 2016
We barely scratched the surface in today's chat. To learn more about ABM, visit a post from the InsightSquared blog, VP Sales: The Case for Account-Based Marketing.
Learn more from Joe Chernov at join us at Content Marketing World from September 6 – 9 in Cleveland, Ohio. He is presenting "Account-Based Marketing & Content Marketing: Friends or Foes?." Use code BLOG100 to save $100 when you register today!
The post Account-based marketing and Content Marketing: A #CMWorld with Joe Chernov appeared first on .