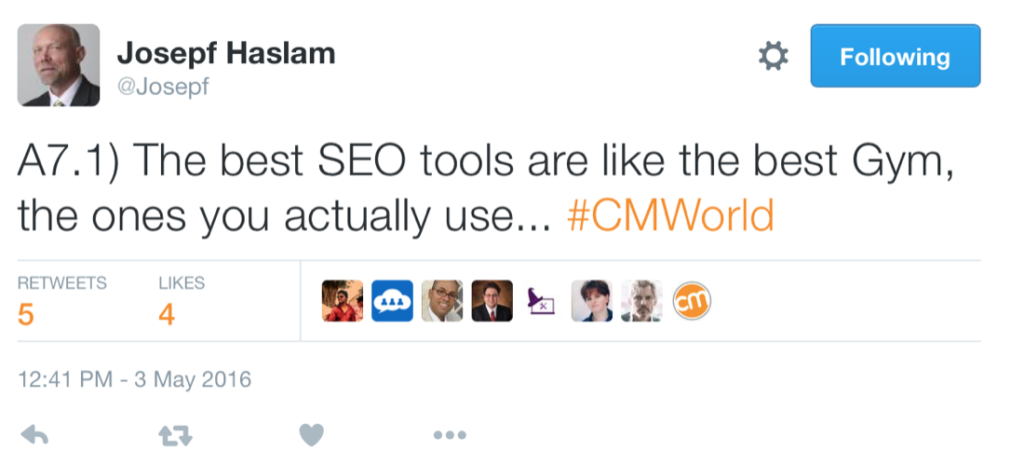 Many in our community met Josepf Haslam at Intelligent Content Conference 2016, so we were thrilled when Senior Director, #SocialSEO & Display Advertising at EducationDynamics said yes to our request to be a guest on a #CMWorld Twitter chat. From tagging to increased searchability to social listening and tools, Josepf provided some excellent ideas for our community.
A few highlights of the chat are below. Visit this week's Storify for even more great conversations on this topic.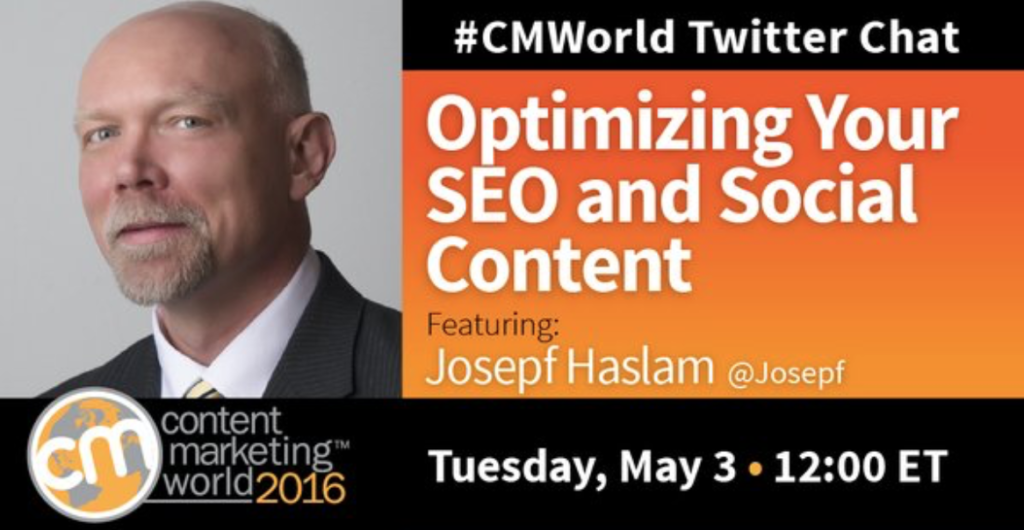 When it comes to the best ways to make your content searchable and search-friendly, our community was in pretty solid agreement: get personal with your audience!
A1.1) Research, not Keywords, start with Social Listening, find micro-audiences, and listen for pain points, questions #CMWorld

— Josepf Haslam (@Josepf) May 3, 2016
A1: Remember who really does the searching: your target audience, your end user. #CMWorld

— Jerome Joseph Gentes (@JJGentes) May 3, 2016
A1 IIt's where keywords + audience intersect. Get out of your chair and literally spend time with them, what are they talking about #CMWorld

— Kate Eidam (@kateeidam) May 3, 2016
So if that's the case, what are the best ways to listen so you can find out what your audience is talking about?
A3.1) Hootsuite is a good social listening tool, high-end Sprinklr, Meltwater Buzz, but.. #CMWorld

— Josepf Haslam (@Josepf) May 3, 2016
A3.2) Start with Google to ID micro-audiences, influencers, bloggers, communities #CMWorld

— Josepf Haslam (@Josepf) May 3, 2016
A3: I am partial to @Brandwatch & @crimsonhexagon for listening. Because listening is fundamental.
Whattup, @Josepf!#CMWorld

— The Gary J. Nix ® (@Mr_McFly) May 3, 2016
A3 Events. Still a fan of just going up to a person & asking what they're reading, has questions about #cmworld

— Karra Barron (@karrabarron) May 3, 2016
Needless to say, this chat was filled with many do's and don'ts, many tools, tips and advice – so this is a can't miss transcript. Be sure to visit the Storify for even more great insights!
Learn even more about SEO by joining us at Content Marketing World from September 6 – 9 in Cleveland, Ohio. Andy Crestodina will be leading a workshop entitled "Complete Search Optimization: The SEO Master Class" on Tuesday, September 6. Additionally, consider Stephan Spencer's session on SEO audits on Thursday, September 8.
Content Marketing World registration is now open, with early bird rates ending on 5/31/16. In addition, use code BLOG100 to save $100 when you register today!
The post Optimizing your SEO and social content: A #CMWorld Twitter Chat with Josepf Haslam appeared first on .