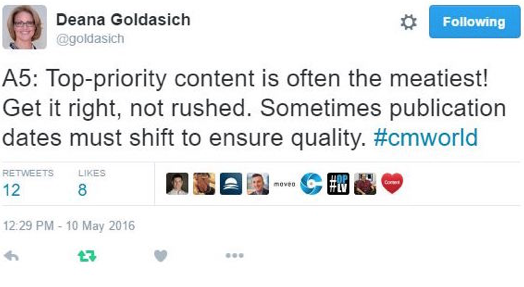 So many content ideas, so little time. How do you know which projects to prioritize? How do you stay on task? Do you have tools to help you do this? Deana Goldasich, CEO of Well Planned Web, joined our recent #CMWorld Twitter chat to help us understand ways we can prioritize content – and why it is so important to do so.
A few highlights of the chat are below. Visit this week's Storify for even more great conversations on this topic.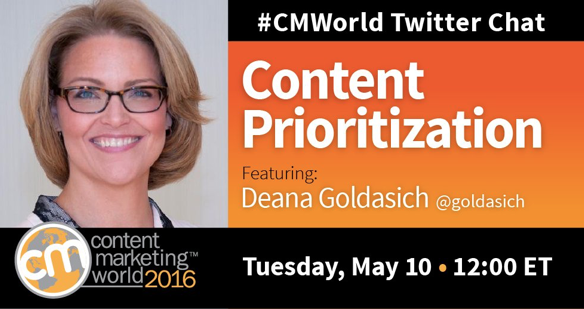 Joe Pulizzi would be so proud. In a few different questions today, a documented content marketing strategy was a common theme:
There's that term again: documented strategy. Pretty much the basic answer to almost every question today. #CMWorld https://t.co/cApSvGiuzS

— Frank Vaccariello (@gowithfrank) May 10, 2016
A3. Content is a manifestation of strategy. When strategy changes, content strategy changes. #CMWorld https://t.co/uCdj7rWCD1

— Buddy Scalera (@BuddyScalera) May 10, 2016
A1: That's where CLEARLY defined objectives fit into your content strategy. Answering your purpose leads your decision#CMWorld

— The Gary J. Nix ® (@Mr_McFly) May 10, 2016
Teams play an important role in content prioritization. By getting a larger group involved, discussing goals, timeliness and purpose, priorities are come to light:
@CMIContent A6: Make sure team members have the right responsibilities for their skills. Stay on top of relevancy and trends. #CMWorld

— ZenContent (@ZenContent) May 10, 2016
A7. Clarity of the team's purpose. If we know what we're trying to accomplish, we're more adept at adapting. #cmworld

— Kip Meacham (@KipMeacham) May 10, 2016
My favorite "tool" is the staff meeting. Nothing beats the team talking together with an agenda. #CMWorld https://t.co/dzOOoMEu8m

— Buddy Scalera (@BuddyScalera) May 10, 2016
A7. Make sure your team is motivated – the more people like where they work and who they work with, the better able to adapt. #CMWorld

— Reva Minkoff (@revaminkoff) May 10, 2016
Read up more on this topic on our Storify! We hope you enjoyed it – and thanks to our friends who participated!
Learn more from Deana when she speaks at Content Marketing World from September 6 – 9 in Cleveland, Ohio. Her session is title, "Getting Executive Buy-In for Content Marketing."
Content Marketing World registration is now open, with early bird rates ending on 5/31/16. In addition, use code BLOG100 to save $100 when you register today!
The post Content Prioritization with Deana Goldasich appeared first on .