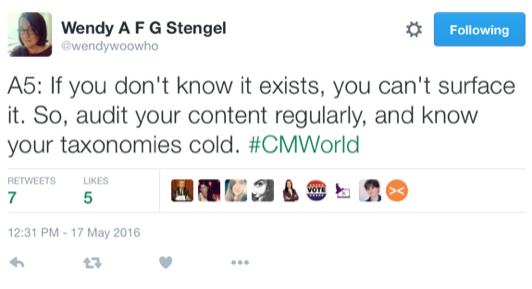 Getting content to the right person at the right time is an aspiration of many us marketers, but this can feel overwhelming. One of the first steps to surfacing the most relevant content is creating a taxonomy for your content, which is a way to organize your content. Wendy Stengel joined our recent #CMWorld Twitter chat to lead on a conversation chock full of ideas.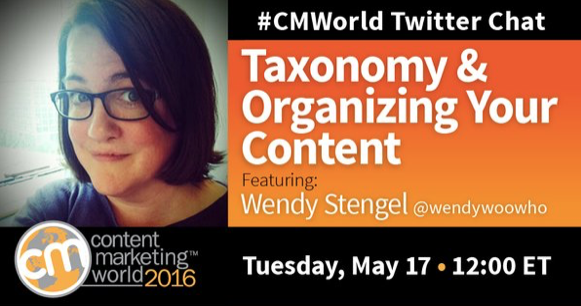 A few highlights of the chat are below. Visit this week's Storify for even more great conversations on this topic.
Taxonomies – how do you tackle this?
A2) Don't be afraid of doing a big content assessment. Added bonus of discovering content that works together in new ways. #CMWorld

— Dana Detrick-Clark (@Serious_Vanity) May 17, 2016
A2. Massive content matrix spreadsheet that audits everything you have. That'll reveal your assets. #CMWorld https://t.co/2qTbiP55rr

— Buddy Scalera (@BuddyScalera) May 17, 2016
With regards to categories, how do you decide what to keep, remove or revise?
A3. Think like librarians in terms of when books are re-ordered or removed from the system . Evergreen or past due? #cmworld#todaysanalogy

— Judy Gombita (@jgombita) May 17, 2016
A3: Audit, audit, audit! Find out what categories you're using, what you're no longer using, what has changed meaning. #CMWorld

— Wendy A F G Stengel (@wendywoowho) May 17, 2016
How do you surface the best content?
A5: If you don't know it exists, you can't surface it. So, audit your content regularly, and know your taxonomies cold. #CMWorld

— Wendy A F G Stengel (@wendywoowho) May 17, 2016
A5: Work with information architects to find ways to give prominence to content that might be buried in an archive. #CMWorld

— Katrina Reed (@katrina_a_reed) May 17, 2016
The post Taxonomy & Organizing Your Content: A #CMWorld Chat with Wendy Stengel appeared first on .