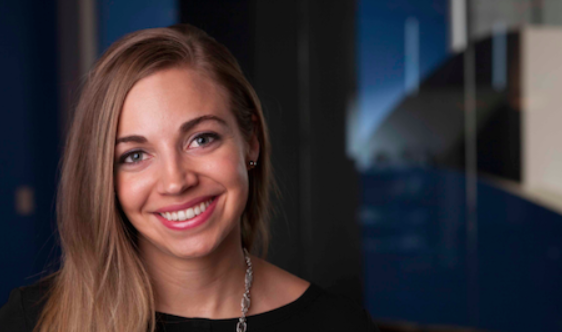 Do you know what Clevelanders love? Other Clevelanders! In our tight-knit marketing community in Cleveland, you just never know who you'll end up working for or with, who you'll partner with on a project, or or who you'll be looking to hire for products or services. With a Brain Gain resurgence here in Cleveland, many business owners and leaders are passionate about making sure top talent stays in (or comes to) Cleveland. Paul Roetzer, Founder and CEO of PR 20/20, is a shining example of this – having a knack for finding his best people right here in Ohio, including Cleveland's own Taylor Radey.
Be sure to say hi to Taylor online or in person in September, and read a little more about her here.
Name: Taylor Radey
Title: Director of Marketing
Company: PR 20/20
Is 2016 your first trip to Content Marketing World?
No, this will be my third time at CMWorld. I actually attended the very first Content Marketing World conference (back when we fit in a single ballroom!), and again in 2013. Coming back for my third time now, the scale of this event is really impressive. It just gets bigger and bigger every year, which is exciting to see—as a marketer and a native Clevelander.
What is bringing you back to CMWorld in 2016?
Paul Roetzer and I will be running an agency track workshop, "How to Hold a Marketing Growth Hackathon." It's designed to be very interactive, so if attendees come willing to participate and share, it should be a lot of fun.
Plus, we (PR 20/20) can't pass up one of the top marketing conferences when it's right in our backyard. We send a few people from our team every year. It's a great opportunity to get out of the office, take a step back and get inspired. That's probably my favorite part of this conference: the feeling of camaraderie and remembering why we do what we do.
How did your career lead you to content marketing?
I studied journalism and public relations at Ohio University. I knew I loved to write and liked the idea of telling brands' stories authentically. My first job out of college was a marketing communications position which, over the course of a couple years, evolved into more of a content marketing role (blogging, email, social media). I've been doing it ever since.
If you could sit down with one person in our industry, who would it be?
Too many to choose! I'd love to talk to Jay Acunzo—I'm a fan of Sorry for Marketing.
Where is one place in the world you'd like to visit? Why?
Anywhere that I can see the Northern Lights. I came really close to catching the Southern Lights last summer, and seeing either is on my bucket list!
What is one orange item in your life you can't live without?
My travel coffee mug. I know, such a marketer cliché.
Be sure to say hi to Taylor and other members of the PR 20/20 team when you see them at CMWorld 2016!
To meet Taylor and other members of our #CMWorld community in person, register now for Content Marketing World 2016! September will be here before we know it, and take advantage of great prices now! In fact, BLOG100 saves $100 off of current pricing! Early bird rates end May 31, so register today! Questions? Please leave a comment here, or email cathy [at] contentinstitute.com.
The post Get to know a #CMWorld 2016 attendee: Meet Taylor Radey appeared first on .