Did you know that there are two types of content strategy — and why marketers need to understand this?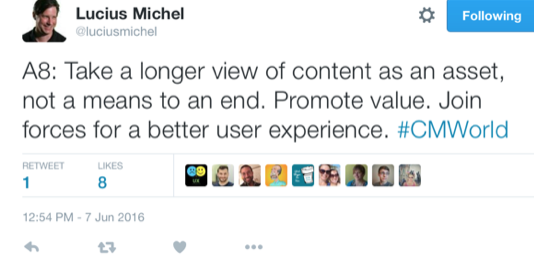 Ann Rockley recently discussed these roles on the CMI blog where an active conversation followed, so we decided to take this topic to the #CMWorld Twitter chat community with Matthew Grocki, principal and owner of Grass Fed Content.
A few highlights of the chat are below. Visit this week's Storify for even more great conversations on this topic.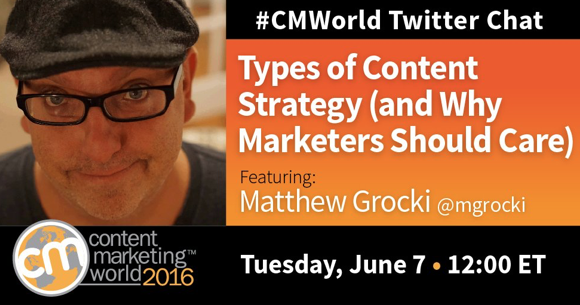 What were some key takeaways?
Community members are cognizant that there is no such thing as a "perfect" content strategy.
A7. 1st of all, you'll never have the perfect content strategy. Define your audience, pick a channel or two, and START. #cmworld

— Tod Cordill (@todcordill) June 7, 2016
A7: Take inventory of your existing content channels, resources, audience & team. Start planning & iterate. Don't wait for perfect. #CMWorld

— Allison Smith (@aesmithwriting) June 7, 2016
A7: I'd ask what a perfect content strategy is? Perfection is subjective if it even exists…#CMWorld

— The Gary J. Nix ® (@Mr_McFly) June 7, 2016
@CMIContent A content strategy will never be perfect-but it will be judged by its ability to react to imperfections. #cmworld

— Andrew Hanelly (@hanelly) June 7, 2016
Participants also realize the importance of breaking down silos.
A4 Screen for collaboration skills+tendencies, and look for complementary personality types. Provide solid collaboration tools. #cmworld

— Erika Heald (@SFerika) June 7, 2016
Agreed @sugarsugarcg! A great content strategist can bridge content with SEO, UX/UI, and even sales. #CMWorld

— Sam Landa (@serinlan) June 7, 2016
Looking for more? Check out our Storify for even more insights from our awesome community. Thank you, Matthew, for joining us!
If content strategy is interesting to you, please sign up for our Content Strategy for Marketers weekly email newsletter, which features exclusive insights from CMI's chief strategy officer, Robert Rose. If you're like many other marketers we meet, you'll come to look forward to his thoughts every Saturday.
The post Types of content strategy (and why marketers should care): A #CMWorld Chat with Matthew Grocki appeared first on .