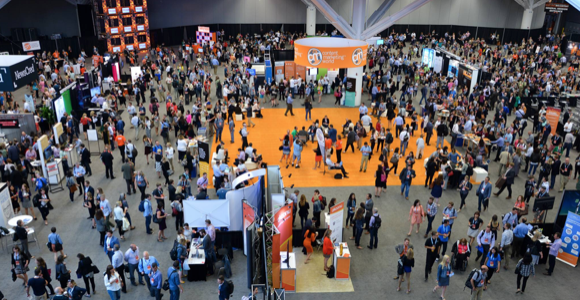 How many events have you been to in your career? When I was fresh out of college, heading to an event was great – I lived for free stuff. I mean, my first job was at an ad agency, so while I wasn't paid the big bucks, I loved the freebies that were delivered to our offices or brought in during sales pitches. Really – who doesn't love a free foam finger for your favorite sports team??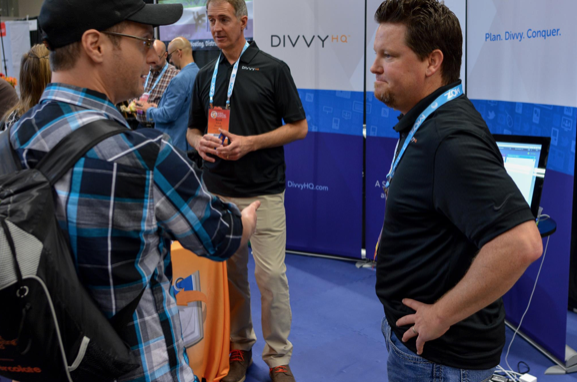 I was recently talking to members of our team about how our expo hall at Content Marketing World has evolved over the years. Technology and tools and capabilities have trumped tchotchkes. Attendees come for fun, but less for free stuff, and more for knowledge. Our industry is at a turning point when it comes to technology. We need to grow, stay organized, scale, and become more insightful. Isn't that a little more exciting than a keychain?
As an attendee, how can you make the most of the expo hall? Here are some ways to prepare:
Document your content marketing strategy – Once you do so, you'll see where you need help – in the form of people, tools, or technology. Make a list of your biggest needs.
Review conference sponsors – find companies that will have booths that align with your needs. Chances are, there will be more than one potential solution to fill that need…so keep digging!
Do your homework in advance – all tools are valuable, the hard part is finding the tool that is best for you, your needs and your customers. Know in advance the questions you'd like to ask, rather than having the booth staff start from scratch. After all, while there are numerous networking breaks, you'll appreciate being a little ahead of the game. The sponsors will be thrilled as well!
Map out your agenda – Aside from selecting sessions, try and plan out your networking breaks as well, and make it a point to stick with it so you can leave the event with all of the information you need. The event seems long, but it goes by in a blink. Make the most of it!
Consider connecting with sponsors in advance – Visit their websites (if you go to our event homepage and scroll to the bottom, you'll see sponsors as well as links back to their websites) and fill out a form to get more information. Include which event you'll be attending, and their team will know to direct you to the right person. Having you on their radar will also make for a better experience at the event.
Bring lots of business cards – Sponsors see a TON of people at each event. If you do all of the above, you'll definitely stand out. That said, help the sponsors remember you even more, by leaving them a business card and any other info that will help them. For sponsors, the only thing better than leaving an event with leads is leaving an event with GREAT, interested, and intelligent leads. Be part of that second group – you're only helping yourself and your company.
What other ways do you prepare for the expo hall at an event? It can be overwhelming to tackle, but a little up-front prep can make all the difference. We'd love to hear your thoughts!
Also, check out photos from Content Marketing World 2015's expo hall in this Facebook album!
Join us at Content Marketing World this September 6-9, 2016 in Cleveland. Aside from great speakers, attendees, and rockin' tchotchkes, we'll have some of the best and brightest tools and tech partners ready to help you advance your practice of content marketing. After all, isn't that what it's all about? Register today! Code BLOG100 saves $100!
The post Conferences: Beyond the tchotchke appeared first on .