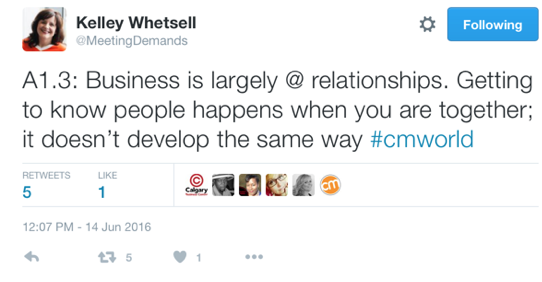 In-person events continue to be ranked one of the most effective tactics in our Content Marketing Institute/Marketing annual research. What can you do to make your in-person event shine? This week we were joined by our very own event planner, Kelley Whetsell, on our #CMWorld Twitter chat where she shared her ideas and led a great discussion. Kelley plans Content Marketing World and Intelligent Content for CMI, and we don't know what we'd do without her leadership and expertise!
A few highlights of the chat are below. Visit this week's Storify for even more great conversations on this topic.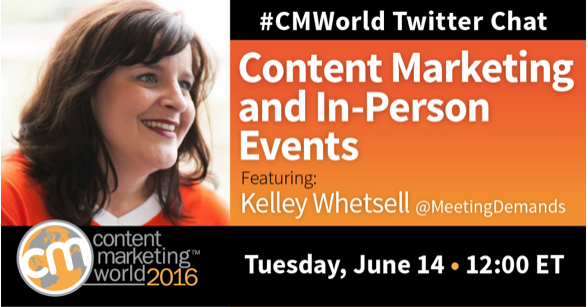 In-person experiences offer something that no other experience can. Our community of event attendees agree – whether at a CMI event or another. And in many cases, it's often the unplanned that provides the best time!
A3.3: Speed dating for biz, small group dinners have been successful techniques. A #CMWorld Afterparty is pretty good too!
#cmworld

— Kelley Whetsell (@MeetingDemands) June 14, 2016
A3: Hands on experience- ex: a masterclass, in-person learning or training #CMWorld @CMIContent @MeetingDemands https://t.co/RmZjCivrtA

— Katherine Lisciani (@millennovator) June 14, 2016
Embrace serendipity! RT @karrabarron A3: Agree. It's great to bump into someone at the coffee line and strike up a random convo! #cmworld

— Scott Lum (@ScottLum) June 14, 2016
Thinking post-event, how can marketers collect and use information post-event? For the content creators and writers, information collected at an event can be a goldmine.
A8: Video, audio, following the hashtag (we use @hashtracking), the event app, @listly (crowdsourced list of event links) #cmworld

— Kelley Whetsell (@MeetingDemands) June 14, 2016
A8) Have temp staff near the doors w/ tablets to collect on-the-spot evaluations and maybe even record video feedback. #CMWorld

— Sonia Harris (@harrisonia) June 14, 2016
A8. Inviting/reserving space on conference site for links to delegate roundups/reflections (& podcasts h/t @RussGoldsmith) of event #CMWorld

— Judy Gombita (@jgombita) June 14, 2016
Think about how many blogs you can get from 1 keynote. Now multiply that by all sessions you have at event- content marketing that! #cmworld

— Scott Lum (@ScottLum) June 14, 2016
Thank you to Kelley, our Twitter chat participants – both event organizers as well as event attendees – for joining us! What an enlightening conversation. We hope to see you at an event soon! (hint, hint)
To make this really meta, join us at Content Marketing World this September where we can talk more about in-person events while we're all at an in-person event. Use code BLOG100 to save an extra $100 when you register today!
The post Content Marketing & In-Person Events: A #CMWorld Twitter Chat with Kelley Whetsell appeared first on .