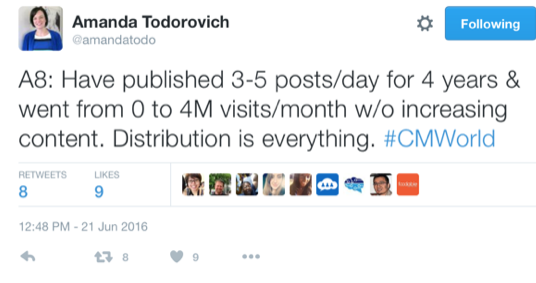 So you say you have a blog and your content marketing strategy documented. Well, that's excellent, because our Content Marketing Institute/MarketingProfs annual research shows that you're ahead of the curve. But, many brands are taking the leap into video production studios to distribute their own (and others') content. Why is this important? Are you a good candidate for this? How do you know if this is what your customers want and need? These questions and more were addressed in this week's #CMWorld Twitter chat with Paul Barron, Founder and Editor-in-Chief of Foodable TV.
A few highlights of the chat are below. Visit this week's Storify for even more great conversations on this topic.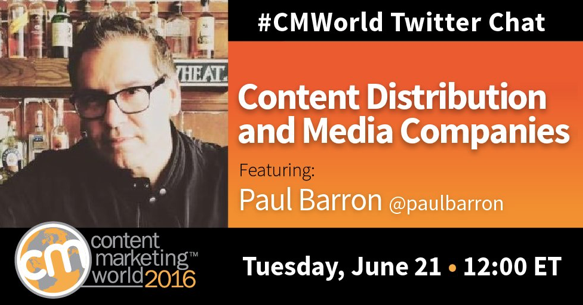 Let's start with a basic question: Are you a brand doing content marketing well, or are you a media company? How do you differentiate the two?
A1: For me this is a huge difference. Media companies will produce content for anyone with $. #CMWorld https://t.co/op96t0ZtWU

— Angela Hursh (@webmastergirl) June 21, 2016
A1 Content Marketing uses great content to monetize their product or service & Media companies monetize content #cmworld

— Scott Lum (@ScottLum) June 21, 2016
A1: The real difference is moving your #brand message from selling to telling. The story has to become the champion. #CMWorld #marketing

— Paul Barron (@paulbarron) June 21, 2016
Great! Now that we've established that, how have you taken your distribution efforts from effective to exceptional?
A7: Never one & done. We re-purpose, tweak & share content many diff ways at many diff times Data drives sophisticated distribution #CMWorld

— Amanda Todorovich (@amandatodo) June 21, 2016
A7: Quality and story will always win, and in most cases, will make up for other weaknesses. #CMWorld #ContentMarketing #Media

— Paul Barron (@paulbarron) June 21, 2016
@CMIContent Pay attention to what works. You might have to try a variety of things to start, but can narrow as you go #CMWorld

— Kristen Hicks (@atxcopywriter) June 21, 2016
Thank you Paul and the entire Foodable team for pulling together not only a great chat, but also a live tutorial on Facebook! (Check it out below). We learned a ton from you and look forward to seeing Paul at #CMWorld where he'll discuss these topics in both a workshop as well as a breakout session.
So…join us at Content Marketing World this September where we can talk more with Paul Barron about video, media companies, content distribution and so much more!Use code BLOG100 to save an extra $100 when you register today!
The post Content Distribution and Media Companies: A #CMWorld Twitter Chat with Paul Barron appeared first on .