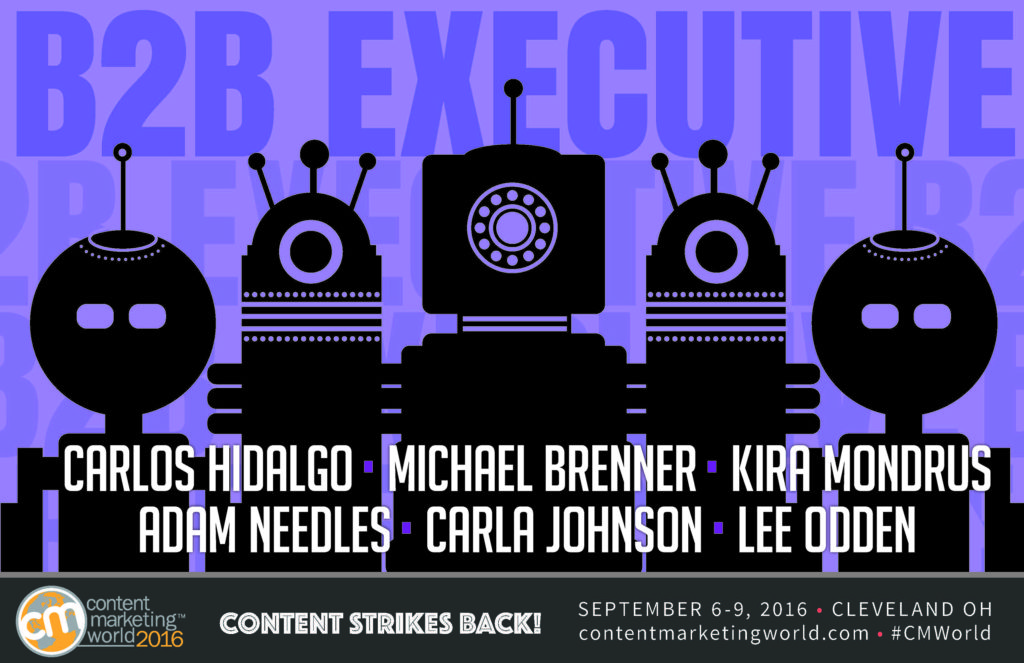 Across the galaxy, an Executive Officer (or XO) often refers to the second in command. But, make no mistake, these experts aren't second in anyone's book. They're here to help marketing executives who attend Content Marketing World 2016 build or grow their own content marketing practices. As C3PO would say, "Thank the maker!" Here's what execs can learn:
Making the Most of your Demand Generation Content: An Executive's Perspective
Carlos Hidalgo
All content is not the same. In the B2B world, content has to align to the audience's buying process and add value all along the way. Demand generation done well does more than fill the top of the funnel, it creates brand advocates. In this session, you'll learn:
The specifics of content created just for demand generation
How to evaluate the effectiveness of content from Engagement to Advocacy
How to build teams and structure to maximize demand generation content
A Content Formula for Complex B2B Organizations
Michael Brenner
Do we still need to make the case for content marketing? More than ever. This session will share strategies and advice for building a content marketing strategy for organizations and getting buy-in from senior executives who still doubt the need for it. Come to this session to learn how to:
Build the business case for content marketing
Find the budget to establish a new content marketing program
Measure content marketing ROI success in business terms.
SecureWorks Case Study – Analytics to Drive the Value of Your Content
Kira Mondrus and Adam Needles
Decisions not based on data are guesses, at best. But what role does analytics play in a buyer-focused, content driven demand generation strategy? Come hear how SecureWorks makes executive decisions today based on actionable analytics. Here's what you'll learn:
Learn what analytics matter to help drive more revenue from demand generation
Understand how to optimize your demand generation program based on data
Why marketing automation technology is only the start for analytics in marketing
How B2B Executives Need to Strategize in the World of Content
Carlos Hidalgo, Michael Brenner, Carla Johnson, Kira Mondrus, Lee Odden
Executives have a challenging role in B2B marketing today, especially when it comes to developing content marketing strategies. Come ask this panel of senior marketing experts the questions you have about content marketing strategies. Program note: this isn't your marketing manager's session, it's geared toward the executive level. Here, you'll be able to:
Explore the new rules for content marketing
Learn how to avoid common pitfalls in today's content marketing
Understand the executive's role in driving a buyer-first content strategy
If you're a marketing executive, please consider joining one or more of these great sessions at Content Marketing World 2016 as the content strikes back! And if you haven't registered yet, there's still time. Use the code EXEC100 to save $100 today! And the first five people to comment on this post will win an autographed poster at #CMWorld 2016!
The post #CMWorld B2B Executive Track + Poster appeared first on .