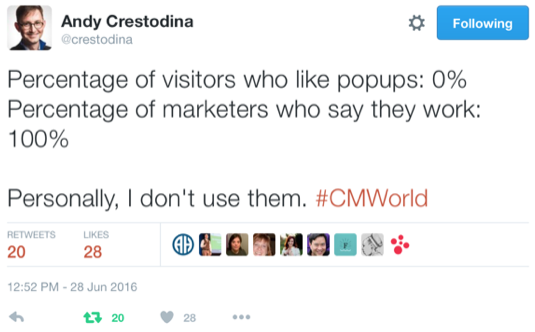 Anyone who is managing a website wants to get the best results, but what you need to do is not always obvious. Dates or no dates on blog posts? Should you embed videos? Include PDFs? We hit some hot buttons with some of our chat participants and had a great and lively debate.
One of our go-to website experts (and a Content Marketing World favorite), Andy Crestodina, joined us for our latest #CMWorld Twitter chat about website design do and don'ts. Andy, co-founder of Orbit Media, was also named Content Marketing World 2015's top-rated speaker, so we were thrilled when he said "yes" to our request to join us on our chat.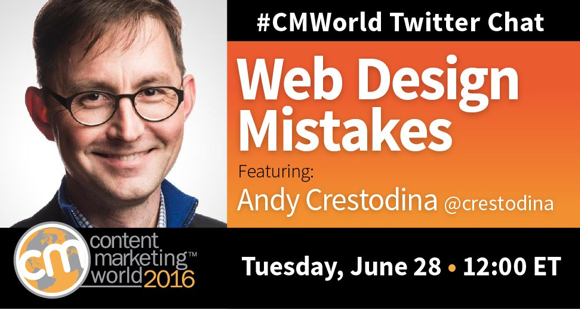 A few highlights of the chat are below. Visit this week's Storify for even more great conversations on this topic.
Should dates be included on blog posts? This one stirred up some strong feelings on both sides:
Correction! A2: The only content that should be dated is news, announcements and trends. Evergreen content should NOT be dated. #cmworld

— Andy Crestodina (@crestodina) June 28, 2016
A2: Dates should always be on blog posts, people appreciate it…and how else can we be like publishers? #CMWorld

— Mike Myers (@mikemyers614) June 28, 2016
A2 I'm pro dates on blog posts. Not including one says you're hiding something, and implies content is really old. #cmworld

— Martin Lieberman (@martinlieberman) June 28, 2016
A2: "Wow! You're publishing great stuff lately!" ← Feedback on a post I wrote years ago, after I removed the date. #cmworld

— Andy Crestodina (@crestodina) June 28, 2016
PDF or HTML? Another topic with conflicting opinions. Which side are you on?
A4: I prefer PDFs for long form content like ebooks and whitepapers. I can save it and print it out if necessary #cmworld

— Scott Lum (@ScottLum) June 28, 2016
A4: It's a mix for your audience. I like to combo. HTML with PDF downloads on evergreen and demand gen #CMWorld https://t.co/9TM6NVW3HH

— Amy Higgins (@amywhiggins) June 28, 2016
A4: Everything should be HTML first. That's ideal for #SEO, #UX, #accessibility, mobile, load speed, etc. #cmworld

— Andy Crestodina (@crestodina) June 28, 2016
HTML is preferable for search optimization, but PDFs can (and DO) outrank HTML pages with the same content. #CMWorld https://t.co/0GSQ1t6jXe

— Matt Albrecht (@BookishMatt) June 28, 2016
I do think PDF newsletters are sooo 1996 and should be HTML. But a downloadable/printable PDF of report/ebook is tangible/valuable #CMWorld

— Bill Cushard (@billcush) June 28, 2016
This just scratches the surface on what we covered on today's chat. For a complete transcript, check out this Hashtracking report. Let us know if you find this useful!
Thanks, Andy, for always providing us with such useful – and immediately applicable – information! We're always a little smarter after a conversation with you, and this chat certainly made us all think!
Andy has a lot more to share during his workshop, keynote and breakout session at Content Marketing World this September. Did we mention he was our highest-rated speaker at CMWorld 2015? Use code BLOG100 when you register to save an extra $100.
The post Web Design Mistakes: A #CMWorld Chat with Andy Crestodina appeared first on .