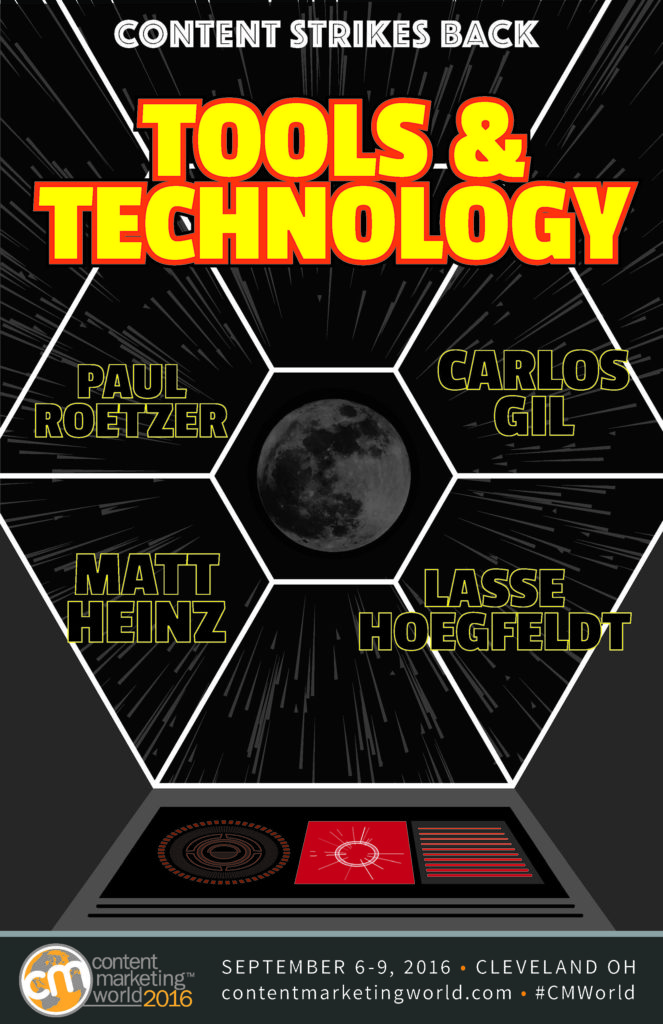 In the tool crib at Content Marketing World 2016, the experts are standing by to help you make your starship (brand) one of the fastest in the galaxy. From new social media technology to the latest tools and tips, these pros can help you be the best Jedi you can be and will leave your competition exclaiming, "Blast!" Here's what you can learn:
Snapchat for Business: Fundamentals to Grow, Scale, and Convert
Carlos Gil
It's not just for teenagers anymore. With 200 million users and 10 billion daily video views, Snapchat is one of the fastest growing and most engaged social platforms. In this session, you'll learn how to get started on Snapchat for business, including:
Examples of notable brands using the platform
Why re-purposing Snapchat content across other platforms is important
Actionable steps for creating micro-content for short form storytelling
Content Marketing in the Machine Age: 25+ Tools and Techniques to Make Your Content More Automated and Intelligent
Paul Roetzer
In the age of machine learning and artificial intelligence, there must be tools available to help the content marketer, right? Oh, yes. Here, you'll get the run-down on readily available technologies that marketers can use to make their content more automated and intelligent and get inspired by specific case studies. Specifically you'll:
Understand what the disruption of other industries can teach us about the inevitable impact artificial intelligence will have on the marketing industry.
Learn about the marketing technology companies that are leading the way in advanced automation, predictive analytics and machine-generated content.
Apply new technologies and processes to make your content marketing more efficient and effective
50 Essential Content Marketing Hacks: New tools, tricks, shortcuts, best practices and more to convert readers into customers
Matt Heinz
What would a tools and technology track be without a 'hacks' session? And this is sure to be a great one. Matt's session at CMWorld 2015 was the first to sell out, including two overflow rooms, and he's added a bunch of proven, high-flying and fast-paced content marketing tactics and best practices. You'll want to catch this session and hear about:
Specific content marketing tactics you can put to work immediately to increase performance of your efforts
How to get your entire organization (and particularly your sales team) leveraging your content to increase visibility, velocity and conversion of prospects into closed business
Real-time success stories from your peers using these content-marketing hacks to accelerate results with minimal cost
When You Can't Rely on the Media, You Have to Become a Media: How Jyske Bank Created a Video Newsroom that Worked
Lasse Høegfeldt
Get a glimpse into Jyske Bank's award winning TV strategy and how they transformed their Communication Department into a Brand Newsroom and took advantage of the new disrupted media landscape and the growth of social media. Specifically, you'll learn:
How Jyske Bank TVs editorial staff works and thinks like a publisher – every day
How to think small and produce content to very limited target groups
How to think big, ambitious and build an audience.
Please consider joining one or more of these great sessions at Content Marketing World 2016 as the content strikes back! And if you haven't registered yet, there's still time. Use the code TOOLS100 to save $100 today! And the first five people to comment on this post will win an autographed poster at #CMWorld 2016!
The post #CMWorld Tools and Technology Track + Poster appeared first on .