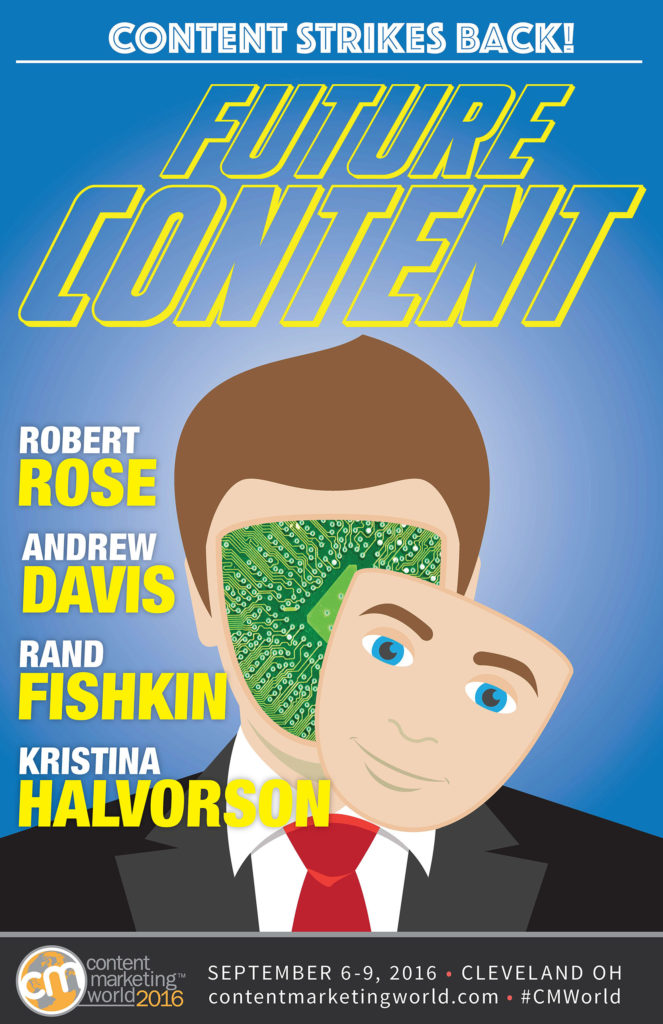 If there were a Future Glory Committee at Content Marketing World, this would be it. These experts may be unmatched in terms of their experience and breadth of knowledge in the content field. From strategy and branding to SEO and technology, these four are widely respected professionals. Hey, you can either try to get your hands on a Cybernetic Experience Chip, or you could attend these sessions. Your call. Here's what you can learn:
Content Strategy: Clarity, Constraints, and Common Sense
Kristina Halvorson
Just when you thought you'd always be confused about the difference between content marketing and content strategy, along comes this little session. As it turns out, when you start with content strategy, you'll make better decisions about content, people, and processes…and that means better all-around results. Whew, that's a relief! Here's what you'll learn:
Understand the difference between marketing strategy, content strategy, and content marketing
Find out what needs to happen before you start creating content
See what a fully functioning content marketing program looks like (sometimes!)
Killer Content: How brilliant brands create less content and deliver bigger success
Andrew Davis
We're creating a ton of "stuff." But what if we don't need all of it? What should we stop doing today to deliver bigger results tomorrow? Some of the most successful content creators in the world create fewer pieces of content while still driving massive success. Come to this session to find out how they do it. Specifically you'll hear about:
Real-life examples of companies that deliver stunning success without relying on "listicles" or viral videos
The five simple secrets smart marketers employ to turn marketing expenses into assets,
How to create less content while delivering bigger success.
The Worst Advice Marketing Ever Gave to Content
Rand Fishkin
Now that content marketing and search engine optimization (SEO) have been around the web for a few years, it's natural that we've accumulated our fair share of bad advice, subpar ideas and seemingly-obvious-but-misleading best practices. How can you know the good from the bad? That's easy, attend this session. Here's what you'll learn:
Understand why you shouldn't listen to numbers 6, 7, or 8 on that list of "10 tactics every content marketer should use"
Learn better approaches to strategy, creation, optimization, amplification, and analytics for your content efforts
Content Marketing is Broken – Here's How to Fix It and Tie It to Real Business Results
Robert Rose
We've all seen the headlines. Content Marketing is dead. Content Marketing doesn't exist. Content Marketing is a #Fail. Well, the truth is, yes, it's hard. But it's not dead. It definitely does exist, and it doesn't have to be a #Fail. Many brands are very successful with content marketing. What can we learn from their experiences? Come to this session to learn:
How to reboot, reset and peel back the covers of what's actually going on in a successful content marketing approach
How to take a hard look at the actual business strategy of content marketing and how we might fix it and get to real, demonstrable value to our business
Please consider joining one or more of these great sessions at Content Marketing World 2016 as the content strikes back! And if you haven't registered yet, there's still time. Use the code FUTURE100 to save $100 today! And the first five people to comment on this post will win an autographed poster at #CMWorld 2016!
The post #CMWorld Future Content Track + Poster appeared first on .