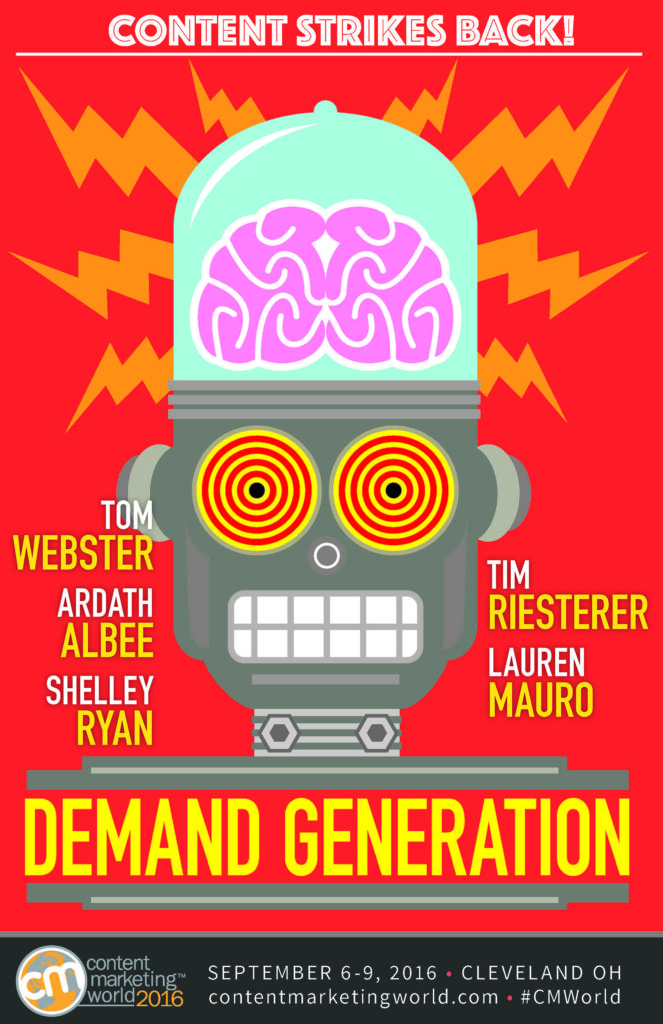 Demand Generation
These sessions will teach you so much about demand generation, you'll be able to sell a Freighter Type C to a Flyboy. Whether your brand is B2B, B2C or un-B-lievable, there's bound to be something to learn from this powerful group of experts. But don't take it from me, check out what you can learn:
"The Forgotten Discipline of (Content) Marketing" – what to do when you've written all the "helpful" content
Tom Webster
You've answered all the questions your prospects have about your category or product. You've written white papers on the problem your company solves. You've turned that content into webinars, blog posts, and videos. Now what? How about a process to develop content marketing that addresses the four stages of what really matters to a company — consumer demand? Yeah, that sounds good. Come check it out!
How to Use Content to Maximize the B2B Buying Process (Buyer's Journey)
Ardath Albee
B2B Marketers continue to churn out more and more content in their efforts to capitalize on content marketing. Yet marketers report less effectiveness year-over-year. What's a brand to do? This session will help you produce business results from content marketing by focusing on quality and effectiveness over quantity and speed. Specifically you'll learn:
What defines an effective content marketing program
How to measure what matters to improve relevance and intent
Why speed of publishing actually diminishes effectiveness
Key elements to use that will maximize the buying process with less content
How Dell Approaches Integrated and Authentic Influencer Marketing (Hint: It's About PR and Marketing Collaboration)
Lauren Mauro and Shelley Ryan
When brands develop influencer partnerships with shared value and goals, it can bring authenticity and third-party credibility at every stage of the customer purchase journey. But effective influencer relations require a new level of collaboration between PR and marketing. Attend this session to learn:
How Dell approaches influencer relations
The strategy and actionable framework PR and marketers can use to integrate campaigns
Tips for fostering a culture of collaboration and an inside look at real case studies
Insights that Incite: Tested and Proven Ways to Active Buying Intent
Tim Riesterer
Attend this session to hear about original research that offers fresh, counterintuitive ideas for creating content that improves persuasion and conversions. Conducted with an expert in messaging, the studies reveal tested and proven ways to improve your content by basing it on principles grounded in the decision-making sciences. Here's what you can learn:
Introduce "unconsidered needs" to create the context for urgency and change
Create contrast between your prospect's current state and future state to convince them to leave their status quo
Use risk and resolution to point your prospect to a new and safer alternative to what they're doing today
Please consider joining one or more of these great sessions at Content Marketing World 2016 as the content strikes back! And if you haven't registered yet, there's still time. Use the code DG100 to save $100 today! And the first five people to comment on this post will win an autographed poster at #CMWorld 2016!
The post #CMWorld Demand Generation Track + Poster appeared first on .