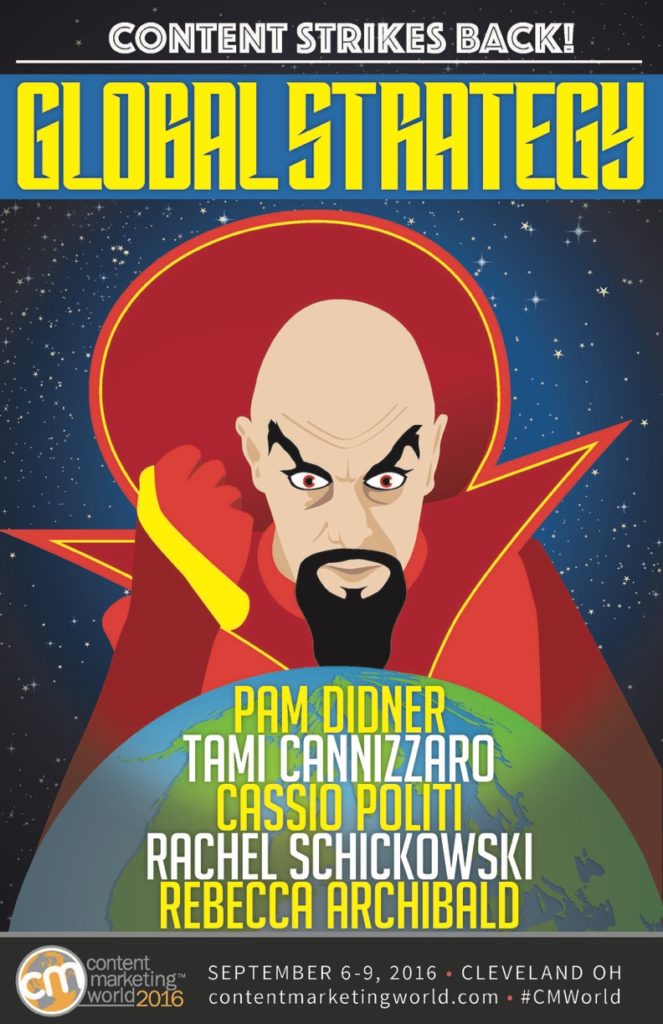 You won't need a Global Communications Transponder (GCT) when you have these experts at your disposal. From creating a global content team to understanding how timing and consistency matter and having a single place to keep all of your global content, you won't want to travel the content galaxy without first attending these sessions. Check them out:
How to Build a Global Content Marketing Team
Pam Didner
Sure, today's world is a much smaller place, but you can't do it alone. The key element of implementing cross-region content marketing initiatives for your brand is to put a team together. If you want to learn how to balance global vs. local from a content marketing perspective, and when and how to say to 'No' to your teams, this session is for you. Come to this session to learn how to:
Think about Global Content Marketing differently
Identify key elements to incorporate into your global plan
Tips and tricks to collaborate your local teams
The New Rules of Global Customer Engagement: How to build momentum for your brand around the world through content marketing
Tami Cannizzaro
Content marketing success is about more than great content – it's also about great timing. The ability to integrate your organization into the daily life of the audience and become a part of their culture is essential to gaining trust. But how do you do put it into practice and scale your efforts to connect with global audiences? That's easy, just attend this session! Specifically you'll learn how to:
Monitor the pulse of the industry and find opportunities to lead the conversation
Build a global team that support a content marketing and social media strategy that boosts brand relevance across cultures and markets while maintaining alignment
Measure the value and prove the value of your customer engagement efforts in a way that brings your team and organization together
How Small Differences in Buyer Personas' Behavior Impact the Global Strategy
Cassio Politi
Of course consumers in different places have different behaviors, but this is a challenge for multinational companies. A brand's content marketing teams are supposed to create content that follows the global strategy, but they can't ignore local particularities. Attend this session to understand how to balance this by developing buyer personas for one brand in several countries. Here's what you'll learn:
How to set buyer personas as the guidelines of an international content plan
How to extract from interviews a lot of economical and cultural information related to markets you don't deeply know
How to make information regarding personas and influencers' behaviors in different markets and languages applicable to an international content plan
Implementing a CMS in Global B2B Organization
Rachel Schickowski
Many brands have teams around the world creating content, but how can one brand manage all of that content and manage it well? Having a global hub for your content is critical. Selecting a platform and configuring it for your organization is the tricky part. Come to this session to learn how you can reduce time and frustration when selecting a content management system (CMS). Here's what you can learn:
Configuring fields, setting workflows, governance
Rolling out platform and gaining adoption
Implementing within regions and reducing content duplication
Integration and streamlining processes
Working with creative agencies, legal and translations…all in one platform
Please consider joining one or more of these great sessions at Content Marketing World 2016 as the content strikes back! And if you haven't registered yet, there's still time. Use the code GLOBAL100 to save $100 today! And the first five people to comment on this post will win an autographed poster at #CMWorld 2016!
The post #CMWorld Global Strategy Track + Poster appeared first on .