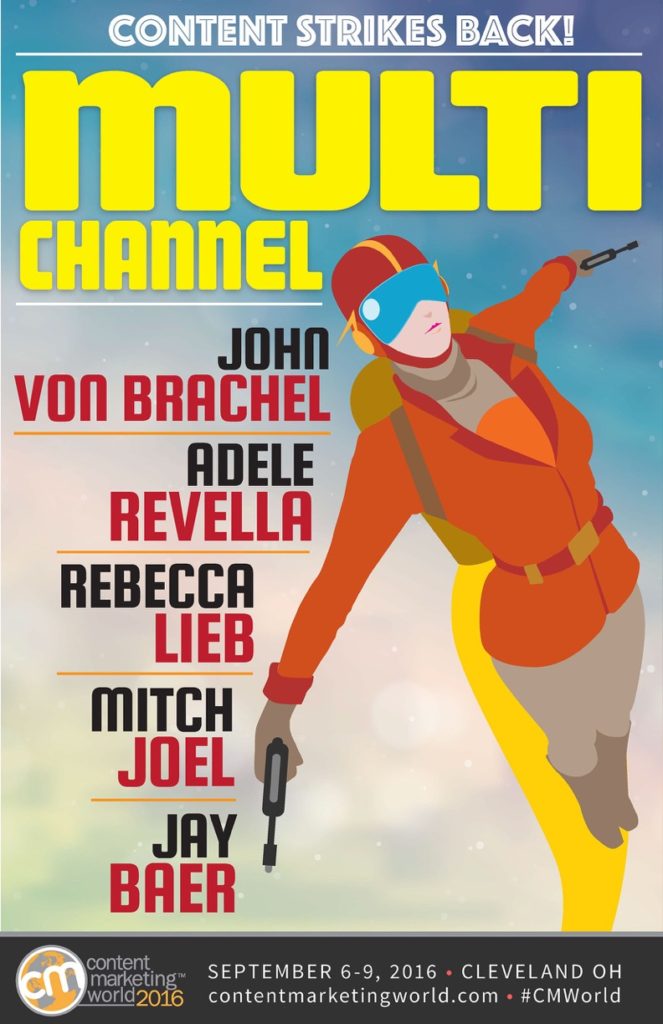 Just as the Multi-Altitude Assault Transport helped the Empire deploy Stormtroopers in higher-altitude locations, these sessions can help you reach a higher level of thinking about your content marketing efforts. Featuring wide-ranging topics from persona and audience development to podcasting and The Internet of Things, these experts will help you know how to deploy some of today's most effective weapons to ensure your brand wins the day. Check them out:
Developing Personas (She Had So Many Personas, She Didn't Know What to Do)
Adele Revella
Trying to do the right thing, marketers are developing buyer personas that profile each of their buyer's goals, concerns and attitudes. But, like the children's nursery rhyme about an old woman who lived in a shoe, attempts to manage the care and feeding of too many personas simply doesn't work. Fortunately, there's this session. Come learn how to:
Identify the number and types of personas that will best serve your specific objectives
Align your team to consistently deliver the messages and content your personas will want to share and consume
Ensure you have the insights to know which media and channels will deliver the highest ROI
Contextual Content From Websites to Wearables to Wherever
Rebecca Lieb
Digital experiences are now a critical part of the customer journey, from exploration and purchase to use and engagement. But content is going beyond screens and into a connected world of beacons, sensors, and The Internet of Things; it's now inextricably linked to not only who, what, when, where and why, but also anytime and anywhere. Attend this session to get a handle on all of this and learn:
The most innovative ideas and case examples of content that span the digital impact across online and physical interactions
The digital experience management solutions needed to address the demands of today and into the future
How to create a checklist of best practices and considerations for making the leap into contextual content
Evolution and Opportunities in Business Podcasting – a Q&A
Mitch Joel and Jay Baer
Podcasting is as popular as ever, but that means everyone thinks they know how it works. In a world where everyone has an opinion about the content, quality, production and distribution of what makes a great business podcast, you have the unique opportunity to learn from one of the originators; someone who is just as relevant to podcasting today as he was a decade ago. Here's what you'll learn:
How this successful business podcaster creates a one-hour show every week that's been one of the top ranked business podcasts for over a decade
Why it works (some of this will surprise you)
What he does that flies in the face of commonly-held best practices
How to Build an Audience-First Approach to Content Marketing
John von Brachel
Most experts agree that content marketing begins with the audience. But it's hard to understand that from only a philosophical point of view, especially if you're the one who has to get it done. If only there were a way to get real-life examples and practical applications that have real world proof. Oh, wait, there's this session! Check out what you can learn:
What it takes to set and socialize an audience-first strategy
How to organize talent and be prepared to deliver during the moments that matter
How to design a nimble process based on inspiration, quality and sustained engagement
Please consider joining one or more of these great sessions at Content Marketing World 2016 as the content strikes back! And if you haven't registered yet, there's still time. Use the code MULTI100 to save $100 today! And the first five people to comment on this post will win an autographed poster at #CMWorld 2016!
The post #CMWorld Multi-Channel Track + Poster appeared first on .