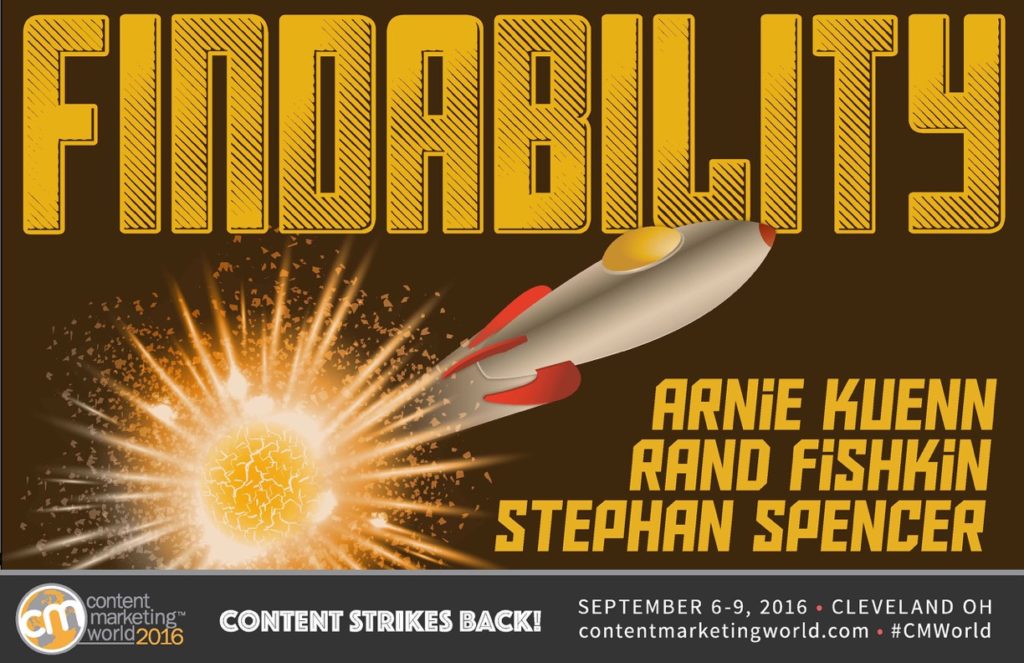 While they're not on the Imperial Find and Destroy list, these experts can help elevate your brand's ability to be found…in a good way. Here you'll find everything from ways to get more traffic and enhance your SEO on your own, to learning what search engines are doing and how brands like you are getting discovered. Don't just hope your customers will be able to locate you from across the galaxy, come to these sessions and learn how to make it easy for them to find you again and again.
How to Get 77% More Traffic from Your Existing Content
Arnie Kuenn
Good news: you've already done most of the work with the content that's already on your website. Why not get the most from it? Join this session to learn how to find gaps in your existing content, edit your content and fill those gaps with semantic keywords to boost dozens of search engine optimization (SEO) metrics. Sound good? Of course it does. Come learn how to:
Map the buyer personas and their journey to your business objectives
Identify and plug holes in your existing content
Expand your keyword footprint in the search results
Drastically increase your organic traffic
The Absolute Most Up-to-Date Presentation on What the Heck is Going on With Search Engines
Rand Fishkin
Experts report that 112% of purchases begin with some kind of search. Okay, I made that one up. But the importance of search engines in marketing today can't be overstated. So when a resident expert says he's going to deliver the absolute most up-to-date information about search engines, you should probably be there, don't you think? Thought so. Here's just some of what you will learn:
The most prevalent and important aspects to consider in a modern SEO effort
Which practices/tactics are best to avoid
SEO Made Super Easy: DIY SEO Audits and 40 Things You Need to Know About Websites Right Now
Stephan Spencer
SEO is more demanding in today's world than ever before and it can take an expert with years of experience to fully diagnose potential SEO problems on your site. But there are many things you can check on your own to diagnose whether major problems may exist and that's what this session can teach you. Here's what you can learn:
How to perform a do-it-yourself SEO audit
40 things the participants can check on their own
A selection of the most valuable SEO tools
What problems/issues the information you find may indicate
Either what to do about it or when to get someone more experienced involved
Supercharging a Media Ecosystem for a B2B Industry
Victor Gao
Business-to-business marketers have many challenges, but one of the most difficult may be building an audience. It's certainly not simple, as many unique factors like multiple influencers and longer buying cycles come into play. This session is designed to help; it tracks the successful journey of one brand from a small online ad buyer to a B2B multimedia powerhouse. If your brand is B2B, you'll want to come see. Here's what you can learn:
How the brand developed its approach
What can you learn as a media publisher, content marketer, or head of M&A
Gain rich insight into one of the most innovative strategic moves in a highly competitive and massive industry
Please consider joining one or more of these great sessions at Content Marketing World 2016 as the content strikes back! And if you haven't registered yet, there's still time. Use the code FIND100 to save $100 today! And the first five people to comment on this post will win an autographed poster at #CMWorld 2016!
The post #CMWorld Findability Track + Poster appeared first on .