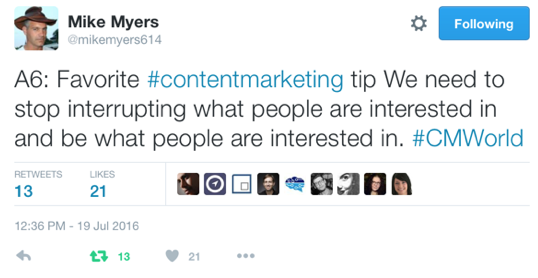 Our recent #CMWorld Twitter chat marked a milestone: 150 chats! Joe Pulizzi joined today's chat to celebrate and to lead a conversation focused on our favorite thing: you. Thanks for spending time with us on Tuesdays and sharing your ideas. This is seriously one of our favorite hours of the week. What we loved most of all? Seeing our community – an incredible group of smart and kind contributors – who each bring value to our special hour each week.
A few highlights of the chat are below. Visit this week's Storify for even more great conversations on this topic.
Let's start at the beginning: How have these chats helped you grow? For many, it's personal.
A1: 150? Already? Wow. Huge congrats! I've connected with folks + learned more at these chats than elsewhere. Cost-effective, too! #cmworld

— Sue Duris (@SusynEliseDuris) July 19, 2016
A1 I love how the #CMWorld chat makes it feel like I'm at a year-long conference with great, smart, friendly people.

— Martin Lieberman (@martinlieberman) July 19, 2016
@lindadessau Great for us working for virtual companies or solo! Love our community so much! #CMworld

— Cathy McPhillips (@cmcphillips) July 19, 2016
A1. Exposure to new ideas and people (esp. more-controversial ones)! Honed my debating skills when I play devil's advocate, too. #cmworld

— Judy Gombita (@jgombita) July 19, 2016
Looking ahead, what could we cover that would help you? We LOVED these answers, and can't wait to fill our fall and winter chat calendar!
A8: I'd love to have a discussion about customer education, specifically how we are educating through content (1 of my favorites!) #CMWorld

— Maureen Jann (@MaureenOnPoint) July 19, 2016
A8: SnapChat. What works? How do you measure success? Anyone doing anything amazing with it? #CMWorld

— Amanda Todorovich (@amandatodo) July 19, 2016
A8: On my mind – artificial intelligence, content marketing technology, audio as a key channel #cmworld

— Joe Pulizzi (@JoePulizzi) July 19, 2016
A8 Honestly? Video tips. That documentary article in April CCO was DA BOMB. More please! #cmworld https://t.co/1ZP9uvn00M

— Ben H. Rome (@bhrome) July 19, 2016
A8: Content partnerships. Syndication. How companies can work together to do amazing content marketing. #CMWorld

— Amanda Todorovich (@amandatodo) July 19, 2016
Wow – you all keep us on our toes! What awesome ideas. And that's just a handful! We can't wait to see what the rest of the year has in store for our chats. See you next time, same time, same place! (12pm Eastern on Tuesdays, for those of you that are new!)
Here's to 150 more chats, friends! And in the meantime, let's have that big reunion in Cleveland this September. What do you say? Join us at Content Marketing World this September. Use code BLOG100 when you register to save an extra $100.
The post The State of Content Marketing: A #CMWorld Chat with Joe Pulizzi appeared first on .