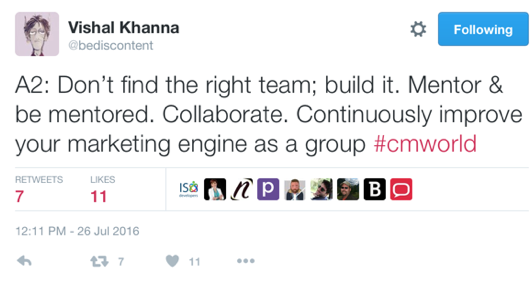 Do you have a small yet mighty content marketing team? Are you looking to do even more? This week's #CMWorld Twitter chat with Vishal Khanna (incidentally, our 2015 Content Marketer of the Year) tackled this very issue: how can you get the most from your team?
A few highlights of the chat are below. Visit this week's Storify for even more great conversations on this topic.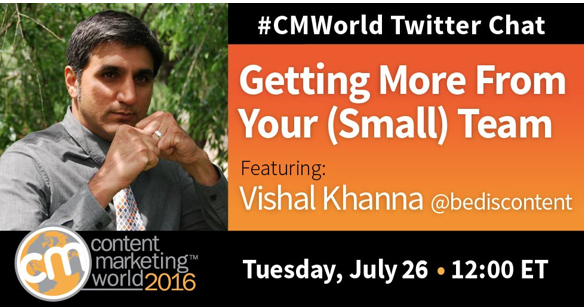 Among small teams (and big ones for that matter!) we're in agreeement: communication among the team is key:
A3: Don't just hear what they have to say, actually LISTEN. Drop the "but we know better…" attitude! Trust their expertise #CMWorld

— Hannah Kovacs (@hkovs) July 26, 2016
A8) When your team does meet, make that time count. Especially when it's in person. Have a plan and be strategic with time. #cmworld

— Convince & Convert (@convince) July 26, 2016
And a documented and clear plan is critically important:
A3: Have a plan and outline, with room to stray beyond so the expert can brainstorm in the moment while you capture the brilliance #cmworld

— Linda Dessau (@lindadessau) July 26, 2016
A6: Clearly defined responsibilities and outcomes should help avoid insanity that comes with growth. #CMWorld https://t.co/JIF3f9qilh

— Writer Leah Ingram (@suddenlyfrugal) July 26, 2016
A6: As teams grow, check in with your charter/manifesto/mission. Does it need to change? Are we still headed there? #CMWorld

— Mike Myers (@mikemyers614) July 26, 2016
Read more from Vishal on the Content Marketing Institute blog, and join us at Content Marketing World where we'll announce the 2016 Content Marketer of the Year. Of course, you'll also get ideas on how to work with your team of any size, so we hope to see you at CMWorld in just a few weeks.
Register now to be part of Content Marketing World, September 6-9, 2016 in Cleveland, Ohio. Code BLOG100 saves $100. Be part of it!
The post Getting More From Your (Small) Team: A #CMWorld Chat with Vishal Khanna appeared first on .