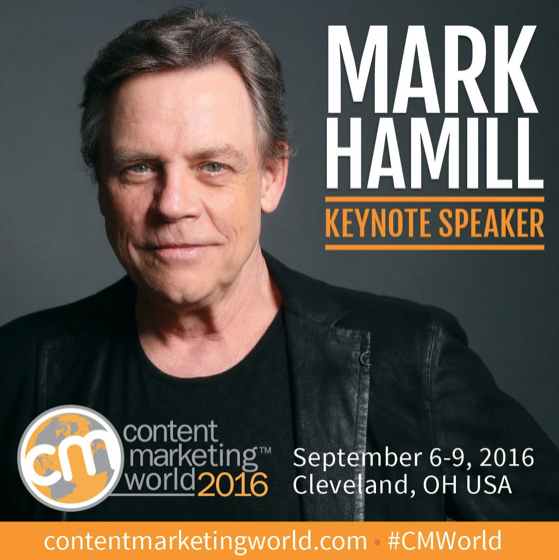 August is always an exciting time for the Content Marketing World team. With a month left until the big show, we're putting the finishing touches on everything so that it's perfect for all of you.
From the registration side of things, each and every day brings us new and old friends signing up for CMWorld.
So, for those of you that haven't registered…what have you been waiting for? Budget approval? The Republican National Convention to leave Cleveland? Or simply because your FOMO hasn't kicked in until now? Whatever the reason, we're thrilled each day to see so many of you signing up over the summer.
We decided to make it a little fun by pulling together a list of great prizes for some of our lucky attendees.
Here's what you might win if you register before 8/12:
Mark Hamill Meet & Greet – two lucky winners will get a meet & greet after his presentation!
Front row seats for Mark Hamill keynote – 5 pairs will be given away
Hollywood Squares contestants – two attendees will be our contestants in our Wednesday game show!
One hour on-site consulting at Content Marketing World with Robert Rose, CMI's Chief Strategy Adviser
One hour phone call post-CMWorld with Joe Pulizzi
One hour of editorial consulting time provided by Michele Linn, CMI's editorial leader
One hour of marketing consulting time provided by Cathy McPhillips, CMI's marketing leader
One hour community management/social media consulting provided by Monina Wagner, CMI's community manager
One hour LinkedIn consulting time with Lisa Dougherty, CMI's blog editor
Who is eligible to win?
Anyone that has registered for Content Marketing World 2016, whether you registered on December 1, 2015, or August 12, 2016, or anywhere in between. We'll randomly draw names for these 15 prizes on August 15th, and publish the news right here on the CMWorld blog.
What do you say? You have until August 12, 2016 at midnight ET to register for a chance to have your name randomly drawn for one of these prizes. For our friends that are already registered, your name is already in the running!
We can't wait to see you in September, and don't forget – be sure to register by August 12 for your chance to win! Register on our website and use code BLOG100 to save $100!
The post Chance at Hamill meet & greet or front row seats! Only for #CMWorld attendees! appeared first on .