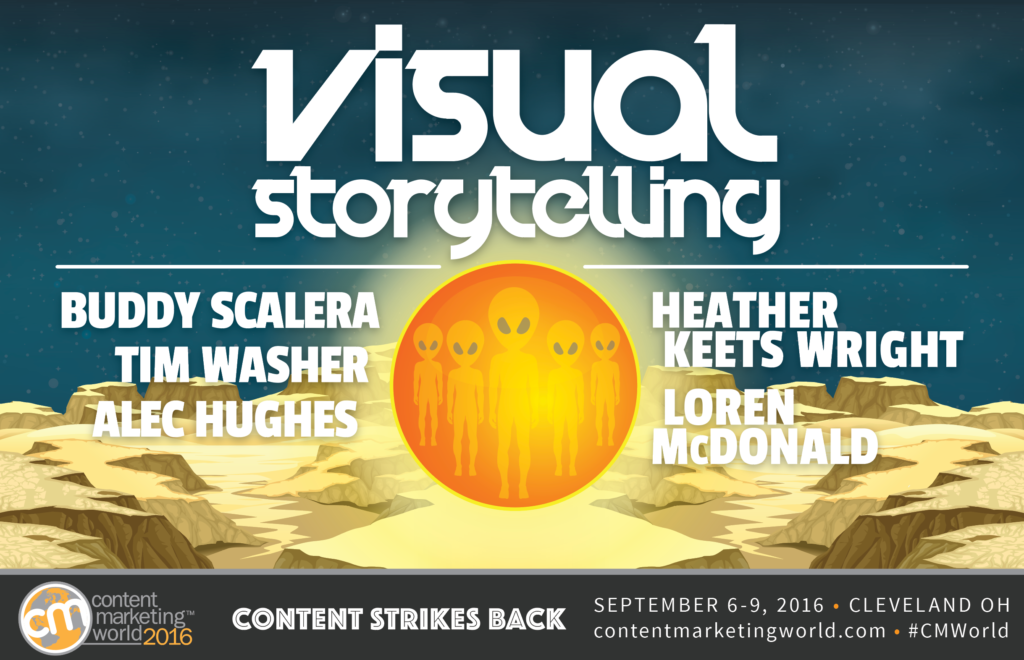 Storytelling is the way humans (and other beings in the universe, presumably) want to learn. It's also the way brands can endear themselves to consumers rather than interrupting the experiences they're enjoying (you know, content marketing). These sessions bring together storytelling experts from across the galaxy who can help you learn how to use the power of story to your advantage. From creating a visual content strategy and using improvisation to become an idea factory to building a world-class thought leadership program and helping Millennials as they plan for the future, these session can help you capture the imagination of our audience by telling a compelling story. Here are the details:
Creating a Visual Content Strategy that Scales
Buddy Scalera
Let's face it, even if you're not a designer, you'll eventually need to work with visual content. Smart marketers anticipate this eventuality and learn how to plan a comprehensive visual content strategy that scales for your entire organization. Fortunately for you, there's this session! Just wait until you tell your boss you can coordinate the design tactics and the content strategy so governance is embraced as an efficiency to both the organization and the creatives – you'll be the visual content hero! Here's what you'll get from this session:
Learn about visual content strategy as an over-arching content marketing plan for the entire organization
Be able to separate the process of creating content from the planning, tracking, and maintenance of those assets
Understand how to staff and support this role in your own organization
How to Use Improv Techniques to Improve Your Storytelling
Tim Washer
John Cleese preaches that creativity is not a skill set, but a way of operating. The idea is that creativity is not some magical talent that only some have, but something that can be learned and harnessed. And experienced (and funny) comedy writer Tim Washer can show you how. By applying four principles from improv theater, he believes every marketer can become an idea factory. And who doesn't want to add that to their resume? Attend this session and you'll learn:
How to get your team into the "open state" to create concepts on the fly; and steps for low-budget, same-day production.
A list for sources of inspiration for mini-documentaries, humorous webisodes and other videos that connect emotionally with your audience.
Simple, alternative approaches to the "talking head" video; ideas for recruiting customers and influencers; and successfully navigating the approval process.
The 5 small mistakes that kill a video's chance of getting shared.
How to Build a World-Class B2B Thought Leadership and Corporate Evangelism Program
Loren McDonald
The idea of thought leadership is a lot like content marketing – those who know how to do it are wildly successful. So how can you learn how to differentiate your B2B content through true thought leadership and bring it to life through a corporate evangelist program? That's easy, by listening to someone who knows how it works. Loren McDonald has been creating or delivering thought leadership programs for 30 years, so he can help you map out the elements of a world-class thought leadership and evangelism program while sharing real-world examples. Attend this session to:
Understand the key roles and elements of a corporate evangelism program
Learn how to differentiate content from competitors through true thought leadership
See examples of thought leadership content that you can model your efforts after
Learn how to achieve by designing multi-content market channel programs from the ground up
How Wells Fargo is Establishing and Testing a Consumer Centric Content Marketing Approach to Engage Millennial Customers With Visual Storytelling Content and Optimal Mobile Led Experiences
Alec Hughes and Heather Keets Wright
Ever wonder how content marketing can help with a younger audience or in a complex, regulated environment? Or both — at the same time? Wonder no longer. This session will show you how Wells Fargo designed and tested a content lifecycle and operating model to enable a rich visual storytelling experience to support young consumers as they manage their personal finances. Whew, that's a lot! Come check out this session to learn:
How large institutions can use audience centric, value-added content as a horizontal thread in connecting multi-channel, multi-line integrated marketing efforts
How to develop a content lifecycle process and operating model as a new capability in the creation of audience centric content and experience development
How audience identification, outcomes definition and measurement framework can be applied to inform program design, mobile-first user experience (UX), channel planning, measurement and optimization
Hear the approach Wells Fargo took to factor in content planning, channel testing, experience refinements and metrics over time to guide incremental improvements
Please consider joining one or more of these great sessions at Content Marketing World 2016 as the content strikes back! And if you haven't registered yet, there's still time. Use the code STORY100 to save $100 today! And the first five people to comment on this post will win an autographed poster at #CMWorld 2016!
The post #CMWorld Visual Storytelling Track + Poster appeared first on .