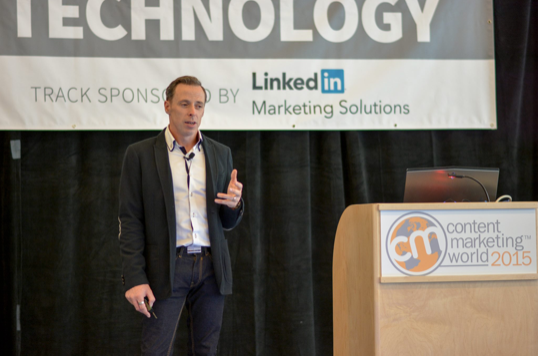 "You want to optimize your content, don't you?" asks a man, abruptly shaking your arm.
You look up and see an older fellow in a dated suit who, as you look him over, is a dead ringer for the Wizard of Oz from the famous movie of the same name. Nah, couldn't be, you think.
"Um, I guess," you reply, indifferently.
"Of course you do!" he insists enthusiastically. "Everybody wants to optimize their content!"
"They do?" you asked, genuinely surprised.
"Oh sure, sure," he said. "It's what everyone is doing these days."
"Everyone? They are? Why?" You ask, a bit sarcastically.
"Why?!" he yells. "Why? Why optimize your content?" he asks again in disbelief.
"He wants to know why," he tells a passer-by, who just ignores him.
"Yeah," you say, feeling a little better about yourself. "Why?"
"Well, it's, it's just the way it is, that's all," the man says, clearly stumbling for an answer to a question he's probably never been asked before. "It-it's just how it's done."
"How what's done," you ask, feeling really good about yourself now. "What does that mean?"
"Oh, just ask Ian Cleary," the man says, and dashes off. And, just as quickly as he appeared, he was gone. So you wonder to yourself, who is Ian Cleary?
Of course, you Google him and find a video on YouTube where he's talking about — you guessed it — optimizing your content. It's a little weird, you think, but you watch:
Hey, you think to yourself, he seems to make a few good points here.
For starters, he says most blog posts don't get ongoing traffic from search engines. You know that's right; your own blog posts hardly ever get traffic worth talking about. Then he mentions this tool called Inbound Writer that can help you focus on the keywords you want to rank on in search engines. The tool is simple enough, he says: green for good, yellow for meh, red for not so good…doesn't get much simpler than that, you think. The higher the number the better the content. It can also show my competitors and give me feedback on headlines? Cool.
But he doesn't stop there.
Just getting people to your site isn't enough, he says. You have to convert that traffic once it gets there. Sure, people may not be ready to buy right away, he says, but maybe you can get them to subscribe. Then he mentions this tool called Opt-in Monster he uses on his own site to get people to subscribe. Hey, you think, I like this guy. He knows about some cool tools.
Then he gets serious: most people don't see your content to begin with, he says. Crap, he's got you there. You know organic reach (especially on channels like Facebook) is really low. And, just as you're starting to feel bad, don't you know it, Ian has another tool. This one's called Social Pro and it can tell you how many of your Twitter followers are online right now so you can know when your audience is listening. Really cool. He also throws in this tool called Edgar that lets you schedule social media posts to make sure you're reaching people all throughout the day.
He's a genius, you think. But the video is over. Where could I hear more from this Ian Cleary guy?
Just then, a happy-looking bearded fellow wearing an orange suit hands you a card:
Content Marketing World 2016
Featuring Ian Cleary (and 200 others)
September 6-9, Cleveland, Ohio
The orange-clad stranger just smiles and walks away. Hmmm, September, you think to yourself.
Sounds like a good time to be in Ohio…
To learn more about Ian, you can follow him on Twitter, connect with him on LinkedIn or check his Razor Social blog.
And, remember, you don't have to wait for a stranger to ask you, consider this your invitation to Content Marketing World 2016! Let's jump on over to the CMWorld registration page right now and sign up! Code BLOG100 saves $100!
The post #CMWorld Speaker Feature + Video: Ian Cleary appeared first on .