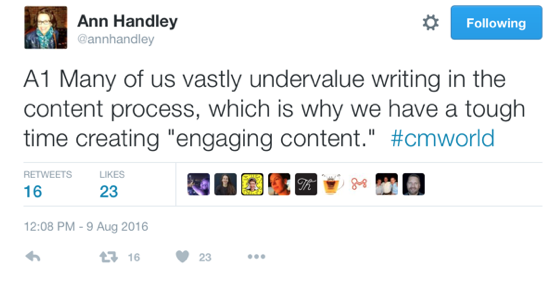 While writing is only one part of content marketing, it's an extremely important part — and one that is sometimes being considered secondary. In fact, our 2016 research found that becoming a better writer was not a top priority for marketers. We think it's essential marketers focus on the craft of writing and invited one of our favorite writers, Ann Handley, to join our recent #CMWorld Twitter chat to lead a lively conversation where tips and tricks were traded.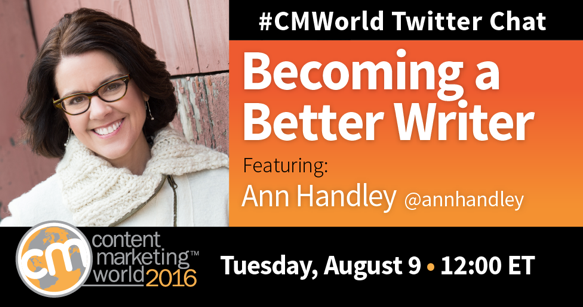 A few highlights of the chat are below. Visit this week's Storify for even more great conversations on this topic.
There was a large consensus on writing tips and best practices…but varying opinions on proper grammar:
@CMIContent A3: "Proper" grammar, not at all. "Good" grammar quite a lot because it adds to readability. #CMWorld

— Kristen Hicks (@atxcopywriter) August 9, 2016
Grammar. Follow the rules. Then break the rules. Make your words work to enhance the reader experience! #cmworld

— Sue-Ann Bubacz (@SueAnnBubacz) August 9, 2016
A3 Content needs to be trusted & to establish credibility. Getting the basics wrong undermines that. #CMWorld https://t.co/RzqyQCTo5A

— David McGuire (@McGuireDavid) August 9, 2016
When asked *who* they'd recommend for great writing inspiration, many suggested not specific authors – or books for that matter, and offered great out of the box suggestions.
A8. Read all kinds of writing- even if it's bad- we all know what bad is when we read it- that can even help you be a better writer #CMWorld

— Amanda Subler (@AmandaSubler) August 9, 2016
A8: @CMIContent I pick up a lot of my storytelling techniques from watching documentaries @Showtime or @ThisAmerLife @iraglass #CMWorld

— Katherine Lisciani (@millennovator) August 9, 2016
@mikemyers614 Songs are some of the most engaging content. Try to write a story that takes 3 minutes to tell…and rhymes. #CMWorld

— Jeremy Bednarski (@JeremyBednarski) August 9, 2016
Thank my wife for this one, but I can attest. If you want to learn to write interesting dialogue, watch Gilmore Girls *grimace* #cmworld

— Patrick Hayslett (@PatrickHayslett) August 9, 2016
As usual, this was a fantastic chat with our community, and as very usual, Ann Handley was amazing. Thanks to all who joined – we'll see you next week!
See Ann speak more about how to make your writing ludicrously spectacular during a breakout session, or catch her during her keynote on a look back on the best marketing of 2017 (so is that a look ahead?) at Content Marketing World this September. Use code BLOG100 when you register to save an extra $100.
The post Becoming a Better Writer: A #CMWorld Chat with Ann Handley appeared first on .