In-house, freelancer or agency? Lee Odden, co-founder and CEO of TopRank Marketing, joined this lively #CMWorld Twitter chat to talk about when you need an agency and, if you do, how to choose the right one. Our community also chatted about how to get the most from your agency.
A few highlights of the chat are below. Visit this week's Storify for even more great conversations on this topic.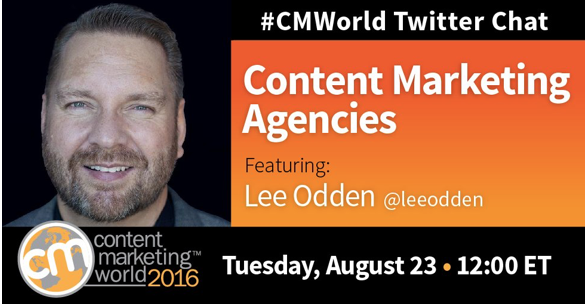 In-house or agency? Or both? Seems like our community has a lot in common, with some minor differences.
A1: We use both our in-house agency (of awesomeness) and external partners. Depends on the expertise needed. #CMWorld

— Mike Myers (@mikemyers614) August 23, 2016
@CMIContent A1 I'm currently a consultant, but when I've been in-house, I always use a mix of in-house, agency & freelance talent. #cmworld

— Erika Heald (@SFerika) August 23, 2016
A1: @CMIContent We prefer content in-house bc our people are experts in our biz, however it can be tough to find the resources. #CMWorld

— Lars Helgeson (@larshelgeson) August 23, 2016
A1: Most companies do some content marketing in-house but I'm seeing outsourcing happening more conservatively. #cmworld

— Lee Odden (@leeodden) August 23, 2016
What are some questions you should ask an agency when considering hiring them?
A4: What's their communication process like? Communication with your agency is key to creating successful content. #CMWorld

— Bree Kelley (@SmartSuiteBree) August 23, 2016
@CMIContent A4 Ask to talk to a client they've worked with on content mktg over time, and probe RE: results & who created strategy. #cmworld

— Erika Heald (@SFerika) August 23, 2016
A4: Q's for evaluating agencies for content marketing services: POV about content marketing, best practices, successes, trends. #cmworld

— Lee Odden (@leeodden) August 23, 2016
A4 Examples of strategic execution that is uniquely content marketing(ie. not advertising) and how do they map to ROI? #cmworld

— Scott Lum (@ScottLum) August 23, 2016
We'd definitely recommend the Storify story on this question – there were lots more where these came from, especially if you're in the market for an agency.
Lee, a perennially-popular speaker at Content Marketing World, will be joining us in September for two sessions: Optimize the ROI of Your Content Agency Investment and How B2B Executives Need to Strategize in the World of Content.
And another bonus? Many agencies will be in attendance, both as attendees and speakers, so please be sure to join us! Use code BLOG100 when you register to save an extra $100.
The post Content Marketing Agencies: A #CMWorld Chat with Lee Odden appeared first on .