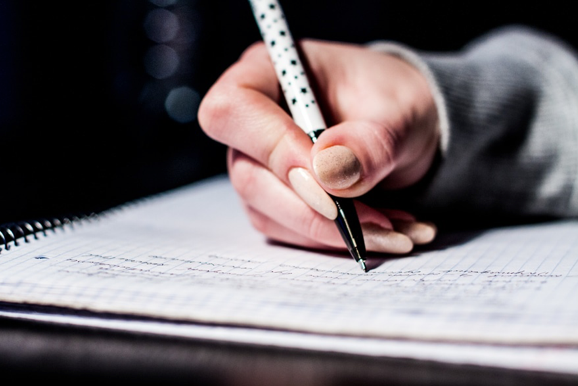 When you come to an event, you're tasked with the job of bringing back tangible learnings to your management and/or your team.
How do you stay organized?
How do you take notes in sessions and remember the key ideas the speaker shared?
How do large groups from the same company come back with notes with some semblance of consistency?
How do you communicate that "ah ha" moment back to your team – and convey exactly what you wanted to say after traveling home?
I asked the CMI team how they work when they attend conferences and events – either now or in the past – and the methods were certainly mixed.
"I was expected to put together a presentation on key learnings and I have a specific way of note taking. Sometimes I worked straight in Powerpoint so I didn't have to go back and forth from paper to the deck."
"People always have their own systems. But, regardless of the format, having an event give us a template of some sort is a good reminder of what you want to walk out of the session with."
"Every time I take paper notes they get lost. If I was traveling to an event, I think a digital format of some sort would be a must."
"If a team is dividing and conquering on the sessions they're attending, it would be great for them to do organize notes in a similar format and share with everyone else on the team."
"Paper. Good old-fashioned paper. It saves me from being heads down in my device and distracted. I'm not good at multi-tasking while trying to listen and learn."
Because we all work differently, we have created some options for you to take notes at the event:
WRITE IT DOWN – Old-school and tried-and-true method: bring your notebook and pen/pencil.
FOLLOW THE TWEETS – Just because you're not tweeting in a particular session doesn't mean that someone else isn't. We have some incredibly fast tweeters at our event each year who use this for their own note taking, and would be thrilled if others found their tweets useful. Follow along by keeping the #CMWorld hashtag open on your device so you can favorite tweets and key moments throughout the week.
USE THE APP – Within the CMWorld app, click on the session you're in and click on "add note." Type on your mobile device, and then when you're done, click "done." When you're finished, click on the "share" button, and email the notes to yourself. The notes will come through with the session name on the top of your notes.
CREATE YOUR PRESENTATION – Will you be presenting your key findings to your team when you return? We've created a presentation template (cover shown below) for you to use. Click on file > make a copy to save this presentation as a Google Slide format, or take it offline by going to file > download as > Powerpoint or another format. Fill this in as you go along to help save you time post-event. By right-clicking any slide and clicking "duplicate slide", you can create notes for each session you attend.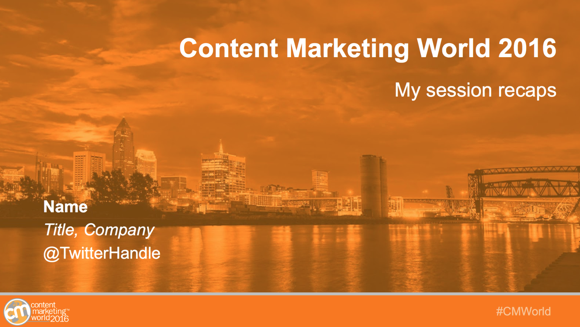 Regardless of your method, consider asking yourself a few questions in each session you attend:
What are some (5, 3 or whichever number makes sense for you) key takeaways? What did I learn?
How does this apply to our team/projects/systems/processes/creativity – right now?
We hope that you have an incredible experience at Content Marketing World 2016, and that you leave each session with something new and exciting that can really make a difference in your content marketing.
We'd love to know what other ways you take notes at events and how you relay your learnings back to your team. Leave us a note in the comments!
There is still time to register! Online registration closes Friday, September 2 at 8pm ET. Hurry and register while you can! (In-person registration begins Tuesday, September 6. But…the early bird has a better chance to get sessions of interest before they fill, so register today!) Use code BLOG100 at checkout to save $100!
The post Staying organized in sessions – the #CMWorld team can help! [template link included] appeared first on .