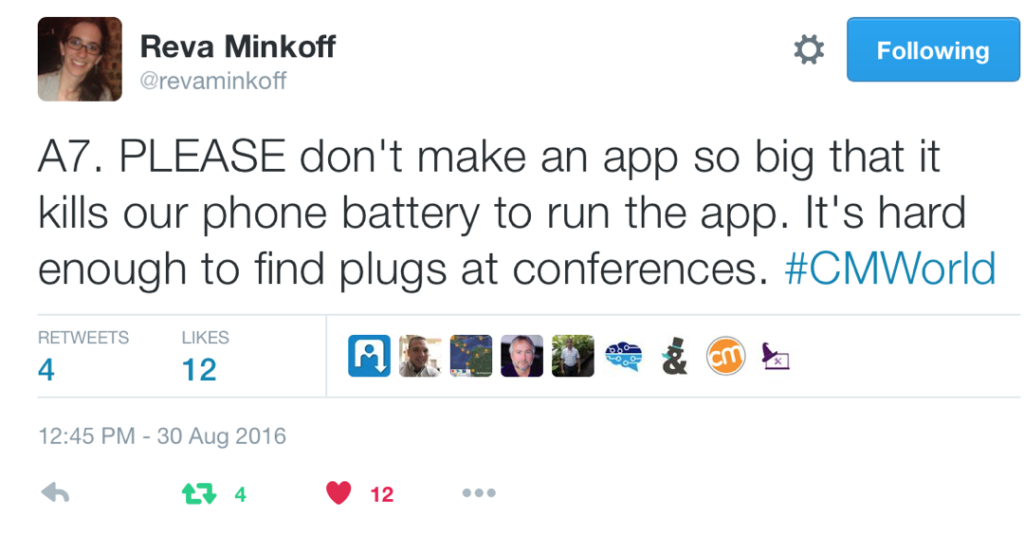 How do you make the most of your time at an event? How do you stay organized while you're there? And why do conferences always push us to use their event apps? Laura Kozak, e-media manager for the Content Marketing Institute – and project manager of the #CMWorld app – joined this lively #CMWorld Twitter chat to talk about all things mobile app-related. We had fun digging into gamification and pre-event networking, too!
For those of you that missed the chat, our complete transcript can be found in our Hashtracking report. Find some of the highlights below.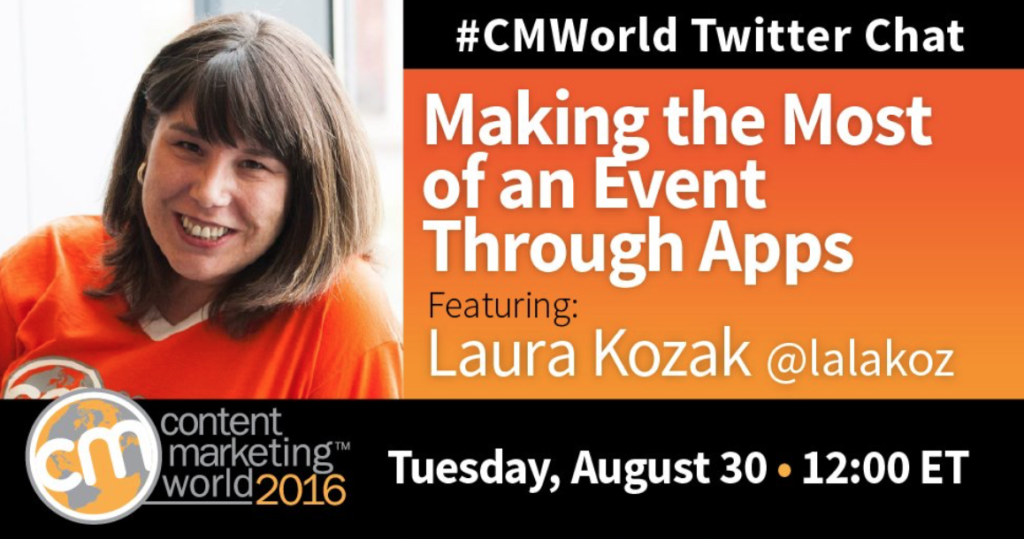 While many conferences and events pour money into the app to make it worthwhile, the UX needs to be exceptional for attendees to use it, and the marketing of the app needs to be great so attendees know where to find it.
A8) In reality the value of an app is less based on what it technically does, and more based on how people are using it. #CMWorld

— David Kelly (@LnDDave) August 30, 2016
Do you follow the hashtag on Twitter and within the app? It provides more than just tweets and key points from sessions.
A5 At larger conferences watching the chatter helps identify what sessions are hot and which are…not so much. #CMWorld

— Janet Fouts (@jfouts) August 30, 2016
Networking is great, social engagement is great, but apps can be very functional and useful.
A8: Also maps of the convention center & expo hall are so helpful, especially when I'm trying to find a particular sponsor. #CMWorld

— Laura Kozak (@lalakoz) August 30, 2016
@CMIContent A8 I use apps a TON before the event to figure out my schedule and when I can meet up with folks. #cmworld

— Erika Heald (@SFerika) August 30, 2016
If you could improve an app or your experience within it, what would you change?
A8:would use it more at the event if it did session recommendations. You loved this session, you might like #cmworld https://t.co/1mSpHHlMJ3

— Amy Higgins (@amywhiggins) August 30, 2016
A7: It would be cool to see which attendees you follow on the app are going to the same sessions you are. #CMWorld

— Jeremy Bednarski (@JeremyBednarski) August 30, 2016
@CMIContent A7 I'd love to see @evernote integration into event apps, more trade show floor maps, and proximity alerts. #cmworld

— Erika Heald (@SFerika) August 30, 2016
And for those of us that will be at CMWorld next week in Cleveland, Maureen Jann has planned an outing for our #CMWorld Twitter chat friends! There's still time to sign up!
Hey, if you're headed to #cmworld, we're doing a twitter meetup! Join us! https://t.co/nw6LIA9mTx

— Maureen Jann (@MaureenOnPoint) August 30, 2016
There's still time to register for Content Marketing World 2016! Online registration closes at 8pm ET tomorrow, Friday, September 2. Hurry! Code BLOG100 saves $100! We can't wait to see you!
The post Making the Most of an Event Through Apps – A #CMWorld Chat with Laura Kozak appeared first on .