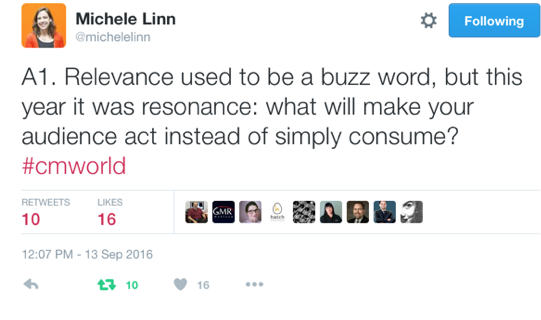 Our year of #CMWorld Twitter chats culminate with our big conference and expo each year, and we're still all aglow in orange from our four days with 3,600+ members of our community. We are so glad that so many members of our #CMWorld online community could join us offline for the big event.
What were the common themes and biggest takeaways? What did you learn, and who did you meet? Attendees shared their learnings, and those not in attendance got a glimpse of what to watch in the fourth quarter and beyond.
A few highlights of the chat are below. Visit this week's Storify for even more great conversations about CMWorld 2016 as well as the future of content marketing through our participants' eyes.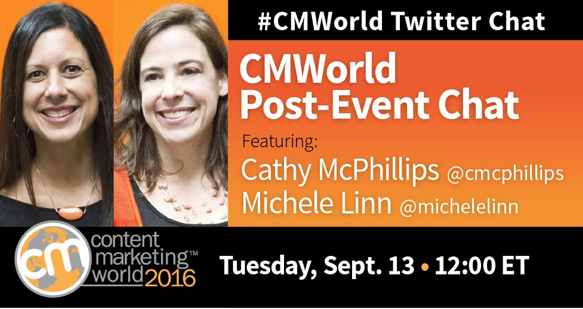 Content marketing will become more deliberate and thoughtful
A5: I think it's around building REAL, RELEVANT personas. Get focused, HELP people. Be in service to your demo. #cmworld

— Maureen Jann (@MaureenOnPoint) September 13, 2016
A5: More content will be coming from places other than #marketing (employees, fans) which will cause marketing to reflect, improve. #CMWorld

— Mike Myers (@mikemyers614) September 13, 2016
A5: Build out a plan, even a fluid one, on deliberate content creation. Don't rush for the sake of pushing out more content. #CMWorld

— Cathy McPhillips (@cmcphillips) September 13, 2016
And from an event stantpoint, some key moments stand out to our attendees
A3. Very difficult choice, but really enjoyed how @jayacunzo put the right context around everything I was learning. #cmworld

— Marlene Oliveira (@mo_flow) September 13, 2016
A3. Hands down, Michael Jr. Totally unexpected, but so very impactful. #CMworld https://t.co/6hRp7AGn0h

— Mike Turner (@av8r2000) September 13, 2016
A3: Tough call. I looked forward to and was not disappointed by @TheSalesLion, @crestodina and @jayacunzo at #CMWorld

— Frank Vaccariello (@gowithfrank) September 13, 2016
That's a wrap! Two important dates for Content Marketing World 2017 are November 1, 2016 and December 1, 2016. On November 1, our Call for Speakers opens, and on December 1, registration opens! Watch the Content Marketing World website for more information!
The post Content Marketing World 2016 Wrap-Up: A #CMWorld Chat with Michele Linn & Cathy McPhillips appeared first on .