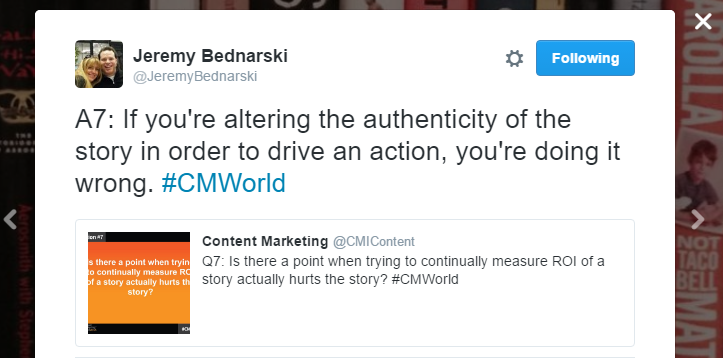 Branded storytelling is a term that is talked about a lot, but what is it? And can brands get a return from it? In our recent #CMWorld Twitter chat, Jacob Warwick, marketing strategist at Blast Analytics, led a conversation on branded storytelling.
A few highlights of the chat are below. Visit this week's Storify for even more great conversations on this topic.
There is a distinct difference between content marketing and brand storytelling, but they work hand-in-hand.
A1: Storytelling takes your content and makes it a compelling read/watch. #CMWorld

— Sue Brady (@SueBrady) September 27, 2016
A1: Brand storytelling is the introduction, content marketing are the chapters. The ending should be conversions. #CMWorld

— Maureen Jann (@MaureenOnPoint) September 27, 2016
Showing value is important, but our community warns marketers not to become consumed by metrics.
A7: Content marketing is a long game w/many moving stories. Obsessing over ROI on a story is a waste of time. #CMWorld #bigpicture

— Amanda Todorovich (@amandatodo) September 27, 2016
A7: If you're altering the authenticity of the story in order to drive an action, you're doing it wrong. #CMWorld https://t.co/pOdwLCVlFl

— Jeremy Bednarski (@JeremyBednarski) September 27, 2016
Yes. Like trying to game SEO keywords and ending up with an awkward, uncomfortable story #CMWorld https://t.co/rgyDRj4x6J

— Patrick Hayslett (@PatrickHayslett) September 27, 2016
Anytime you put metrics over purpose you hurt the story. It puts short-term stats over long-term impact #cmworld https://t.co/FHlnA6YzWL

— Carla Johnson (@CarlaJohnson) September 27, 2016
ROI is an important topic on the CMI blog, including a great article by Jacob Warwick! Check out our Measurement & ROI Topic Page, sure to give you some great tips and food for thought on improving your content marketing measurement and improving your ROI.
The post ROI of Branded Storytelling: A #CMWorld Chat with Jacob Warwick appeared first on .