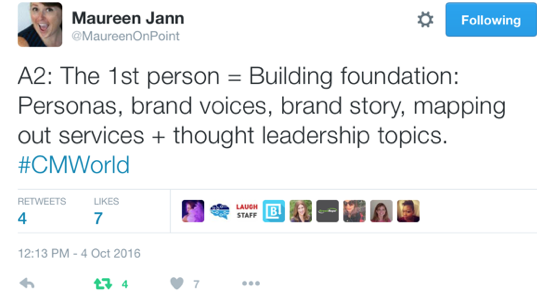 One topic we get a lot of questions on is how to set up your content marketing team. What are the critical roles on the team? How is your team evolving? These are just a few of the questions discussed with Point It Marketing Director Maureen Jann during this week's #CMWorld Twitter chat.
A few highlights of the chat are below. Visit this week's Storify for even more great conversations on this topic.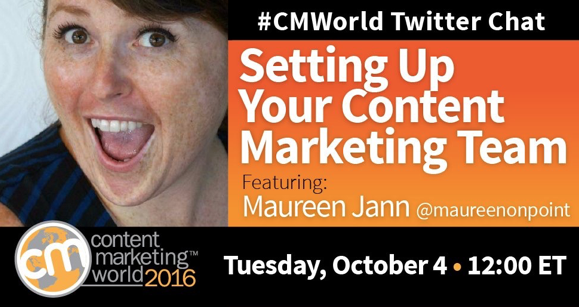 Building a content marketing team does not have to be a difficult task. The roles and responsibilities of your team members may fall within an already-established framework.
A4: @CMIContent has a content marketing org chart! https://t.co/tpgfXG6HNJ #CMWOrld

— Maureen Jann (@MaureenOnPoint) October 4, 2016
A4: I like the work @altimetergroup did around this a few years ago. Look it up, it's worth it. #CMWorld

— Mike Myers (@mikemyers614) October 4, 2016
A4 I like this model from @annhandley: https://t.co/FOLVHMKiQV #cmworld

— Dennis Shiao (@dshiao) October 4, 2016
Many members of our community have content marketing teams of five people or less. But that has not stopped them from shifting resources and budget towards new initiatives.
A6) Video Advertising & Product Storytelling are the big focuses in our fiscal year. #EnhanceUserExperiences #PersonalEngagement #CMWorld

— Jason Schemmel (@JasonSchemmel) October 4, 2016
A6 I do not possess those skills but I'm interested in #VR and Augmented reality and that would fit in content creation #cmworld

— Phil Siarri (@philsiarri) October 4, 2016
A6: CLO – Chief Listening Officer – engaging better with audiences as they change and discuss. Great ideation opps. #CMWorld @CMIContent

— Patrick Delehanty (@MDigitalPatrick) October 4, 2016
Silos may exist within an organization, but collaboration is key. The goal should be leveraging partnerships across teams.
A7: We try to include most of our teams in the process when possible but we're always striving for full buy-in from everyone. #CMWorld https://t.co/VQ0vV9J8Ku

— BrandExtract° (@BrandExtract) October 4, 2016
A7: Hopefully there's a lot of overlap. If not, build the bridge to get them involved. #CMWorld

— Jeremy Bednarski (@JeremyBednarski) October 4, 2016
A great chat today! Thank you all for joining in and sharing information about your own teams.
Continue the conversation here in the comments below, and be sure to join us next week for a discussion on Twitter chats with Content Marketing Institute Community Manager Monina Wagner.
The post Setting Up Your Content Marketing Team: A #CMWorld Chat with Maureen Jann appeared first on .