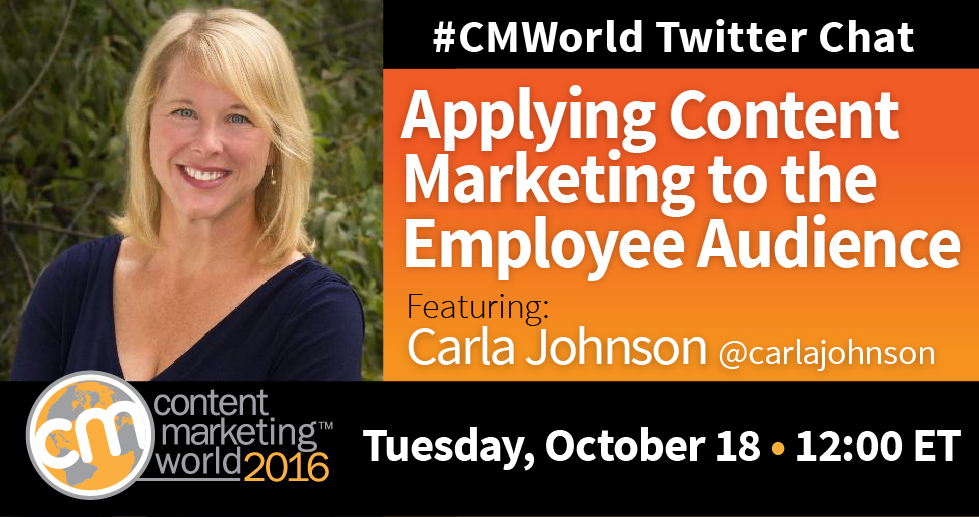 Is your company doing enough to engage your employees with your content marketing?
This week, Type A Communications Chief Experience Officer Carla Johnson joined us on the #CMWorld chat to share her expertise.
Johnson cites a Gallup poll estimating that disengaged employees cost the United States $450-$550 billion in lost productivity each year. In order to be successful engaging employees, you need planning, buy-in, and great content. Employees need to understand your brand's purpose and how their roles support it.
If the idea sounds intriguing to you, read on. A few takeaways from the chat are below. Visit this chat's Storify to see more tweets on the topic.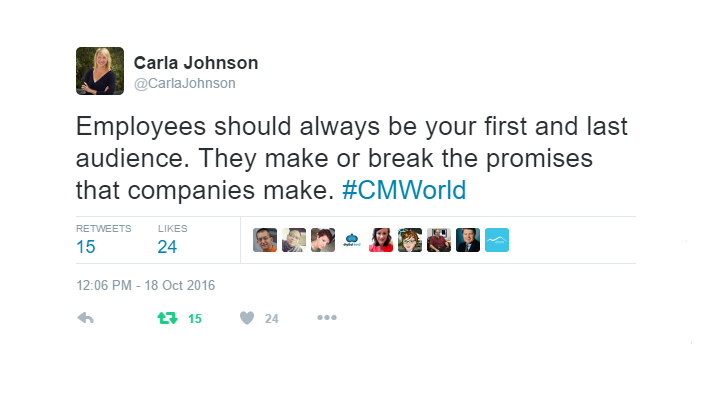 Appreciate your employees for who they are
We know content marketing is about relationships. And those relationships begin with your employees.
A1: Employees aren't just the experts, they're also a source of passion for your brand. #cmworld

— Jeremy Bednarski (@JeremyBednarski) October 18, 2016
A1 Employees are your army of storytellers. Teach them your story & they'll bring it to life through creativity & innovative ideas. #CMWorld

— Carla Johnson (@CarlaJohnson) October 18, 2016
No matter the industry, educating employees is key
To deliver a remarkable experience to customers, we need to educate and encourage our employees. We should approach internal teams with the same strategy as we would our consumers.
@CMIContent A6: No matter the size of your company or your industry, communication is key within a team. Content gets the job done. #CMWorld

— Wilde Agency (@Wilde_Agency) October 18, 2016
A6) I'm in an agency & small groups on the side. I don't think so. You still need direction, consistent messaging, committed staff. #CMWorld https://t.co/WQba1Uh5JZ

— Jeremy Bond (@JeremyDBond) October 18, 2016
@CommunityElf RIGHT! B2B or B2C, it's all person-to-person communication. Individuals read, not the entire biz all at once. #cmworld

— Martin Lieberman (@martinlieberman) October 18, 2016
Join us every Tuesday at 12pm ET on our #CMWorld Twitter chats
The post Applying Content Marketing to the Employee Audience: A #CMWorld Chat with Carla Johnson appeared first on .