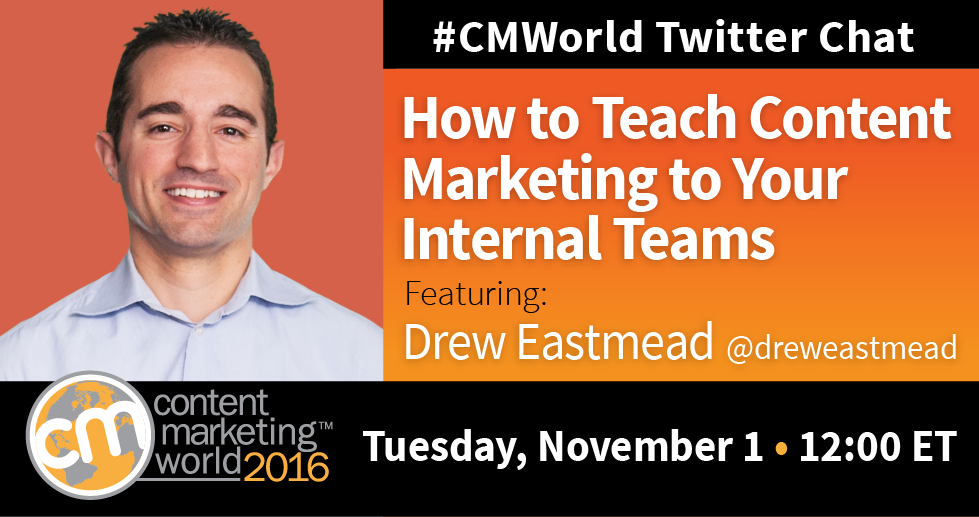 Content marketers often lament about the lack of support they receive within their organizations. Making a case for content marketing can be a challenge, despite the opportunities it has to offer. To convince teams of its value, we must prepare for internal conversations with talking points, examples and statistics.
This week's #CMWorld Twitter chat discussed how to overcome some of these challenges and secure buy-in from your internal team. We were joined by special guest Drew Eastmead, Director of Content Marketing and Content Coaching at Vertical Measures. A few takeaways from the chat are below. Check out our Storify to see more tweets on this topic.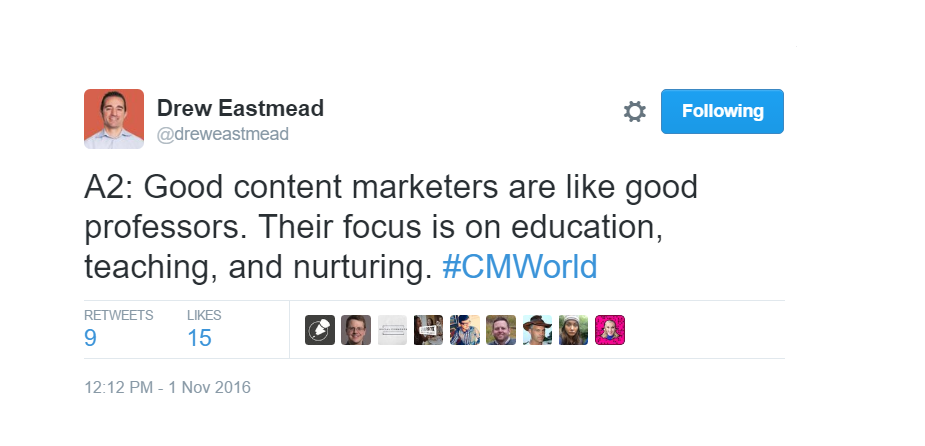 Recognize your obstacles
To communicate the benefits of content marketing to others, you need to evaluate the roadblocks ahead of you and determine how best to overcome them.
A1: I think it's getting people out of their comfort zones, especially for your teammates who are not customer-facing. #CMWorld

— Drew Eastmead (@dreweastmead) November 1, 2016
A1: The biggest roadblock may be making sure everyone understands #contentmarketing and how you will use it to meet goals. #CMWorld

— Mike Myers (@mikemyers614) November 1, 2016
A1: My roadblock is 3-fold: Perceived effort required, concerns about time, lack of big picture vision/understanding. #CMWorld

— Shannah Hayley (@shannahhayley) November 1, 2016
Have a plan
Once you've convinced your team of the value of content marketing, be prepared to implement a strategy.
A6a: We generally recommend starting with a simple strategy. Answer the who-what-where-when-why questions. #CMWorld

— Drew Eastmead (@dreweastmead) November 1, 2016
A6: need to establish a process & map out responsibilities #CMWorld https://t.co/igvyiUQHYO

— Josephine Borrillo (@70mq) November 1, 2016
A6 Start by holding an editorial meeting, collecting ideas and SMEs+content creators for your editorial calendar, define mission. #CMworld https://t.co/8fouJHWFh4

— Erika Heald (@SFerika) November 1, 2016
What is your experience with securing buy-in from your internal teams? Let us know in the comments below.
Looking to secure support for your content marketing efforts? Check out our buy-in starter kit for stats, tips, and talking points.
The post How to Teach Content Marketing to Your Internal Teams appeared first on .