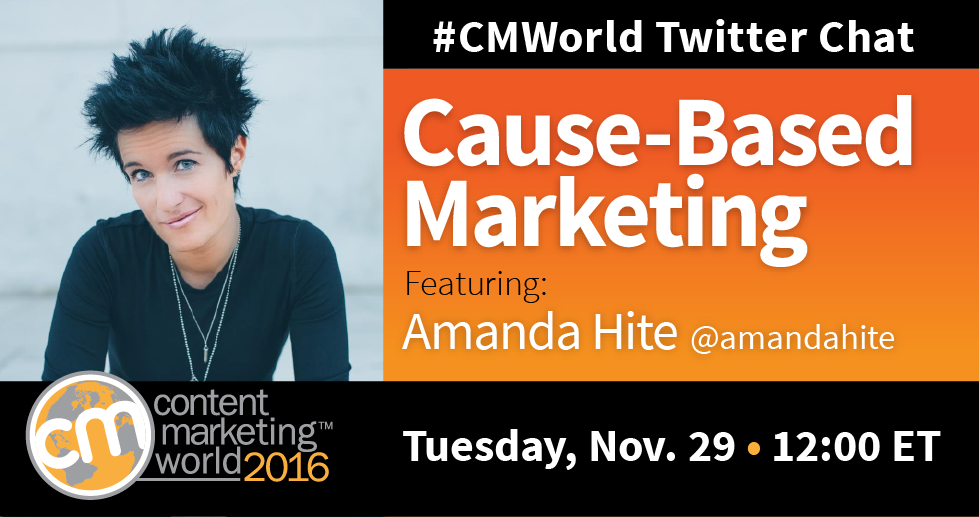 Cause-based marketing is a way for brands to bond with its audience by giving back to a worthy charity. To be successful, businesses must commit to a cause its target audience is passionate about, develop a strategy around it, and execute that strategy in an authentic way.
On this week's #CMWorld Twitter chat, we discussed how brands can make a lasting impact through cause marketing. We were joined by special guest Amanda Hite, Co-founder and CEO of BTC Revolutions. A few takeaways from the chat are below. Check out our Storify to see more tweets on this topic.
Choose the right cause
Identifying the right charity for your brand is the first step in a solid cause-based marketing strategy. It's important for businesses to make a socially-responsible decision that builds trust and loyalty with their target audiences. The challenge is ensuring your choice supports not only the brand but the community as a whole.
A1: Just like content marketing, cause marketing needs to be authentic. #CMWorld https://t.co/8919YrkK0X

— Jeremy Bednarski (@JeremyBednarski) November 29, 2016
If you begin the process with the mindset, "How can we help this cause?" instead of "How can we help ourselves" everyone wins. #CMWorld

— Bill Skowronski (@BillSkowronski) November 29, 2016
A1. It's crucial for brands to pick causes that align with their brand values. Picking a cause "just because" can be an issue. #CMWorld

— Cassandra Deakin (@Kitty_Cass) November 29, 2016
Contribute more than dollars
Cause-based marketing can come in many forms.
@CMIContent A2: There are endless ways to help a cause. Donate money, time, or services. Whatever your company's strength is! #CMWorld

— Stephanie Zatyko (@ExperianDQSteph) November 29, 2016
A2: Support causes by encouraging employees to volunteer time (even during work hours) & matching employee donations #cmworld @CMIContent

— Sarah Dudley (@SarahDudley3) November 29, 2016
What companies do you know of that are doing cause-based marketing well? Let us know in the comments below.
Looking for more inspiration on creating killer cause-based content? Then join us for Content Marketing World 2017. Registration is now open.
The post Cause-Based Marketing: A #CMWorld Chat with Amanda Hite appeared first on .