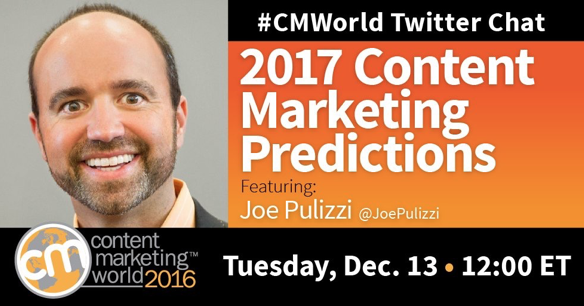 Today's #CMWorld Twitter chat revolved around one of our favorite and most-discussed topics: Content Marketing Predictions for 2017. Each year (9 years running!) Joe Pulizzi and other thought leaders in the industry share their predictions for the coming year.
This week, CMI's Founder, Joe Pulizzi, joined us as we looked at eight of the predictions. As always, our community chimed in with their thoughts. As you look ahead to 2017, we hope this provides you with some good ideas, whether realistic, or whether we're reaching for the stars. Either way, we hope it's inspiring and useful to you.
A few takeaways from the chat are below. Visit this chat's Storify to see more tweets on this topic.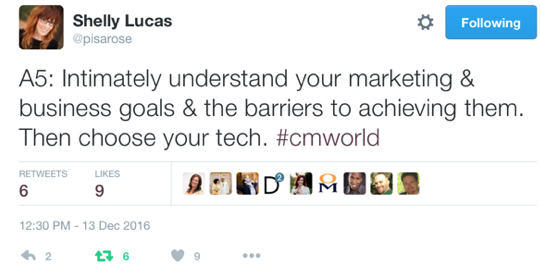 As our industry becomes more tech-heavy and tech-dependent, now, more than ever, we need to maintain a human approach toward our customers.
A1: Think less about themselves and more about their audience. Humanity will come naturally. #CMWorld https://t.co/HOYl5tTRtJ

— Jeremy Jones (@jerejone) December 13, 2016
A1: Practical ways 2 add humanity to a brand-have real people who live your values out in the market, doing the work, communicating #cmworld

— Maureen Jann (@MaureenOnPoint) December 13, 2016
A1 : Don't rely solely on automation! It's great for some aspects of business, but creating genuine relationships isn't one of them #CMWorld https://t.co/aQtltefXbW

— HeyOrca! (@HeyOrca) December 13, 2016
Dynamic content can be very effective…if done well.
A3 My favorite example of dynamic content is the @usaa bot within the app. Game changer for me. #cmworld @CMIContent @chiefmartec

— Zeph Snapp (@ZephSnapp) December 13, 2016
A3b. #Dynamiccontent is great unless it feels invasive. If obvious, it has to be from info the customer purposefully supplies. #CMWorld pic.twitter.com/gHzCl7S82T

— D2 Media Solutions (@D2MediaSLN) December 13, 2016
A3. Think dynamic content like interactive story graphics and calculators would do well – and lead to conversations #cmworld

— Amisha Gandhi (@AmishaGandhi) December 13, 2016
Visit the CMI SlideShare page to download the 2017 Content Marketing Predictions e-book and to look at our other presentations. And of course, join us every Tuesday at 12pm EDT on our #CMWorld Twitter chats. This is our last chat of 2016 – we'll see you January 10, 2017 when we talk about content marketing resolutions!
The post 2017 Content Marketing Predictions: A #CMWorld Chat with Joe Pulizzi appeared first on .