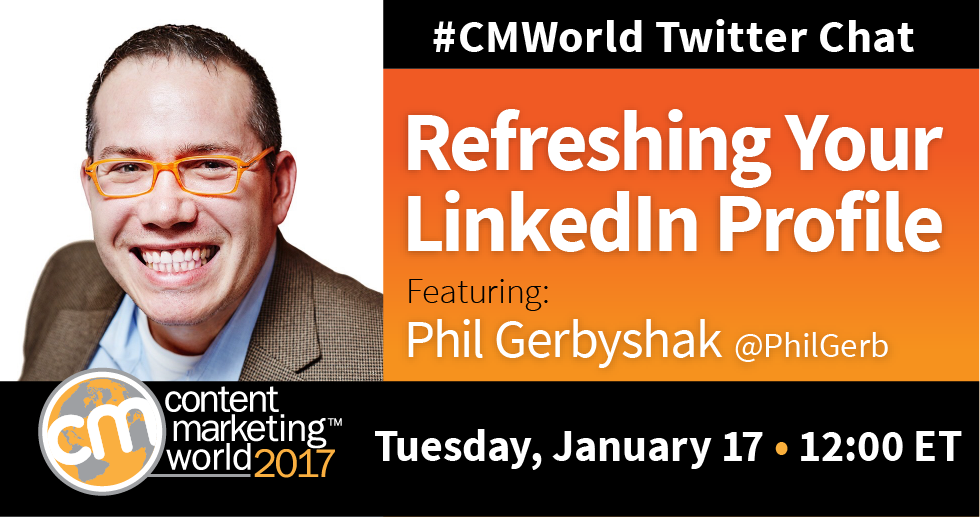 With more than 467 million members, LinkedIn is the world's largest online professional network. Chances are, if you are reading this post, you have a LinkedIn profile. But are you using the channel to its fullest potential?
To help us kick our LinkedIn presence up a notch – and introduce us to some hidden features – we invited special guest Phil Gerbyshak to join us on a recent #CMWorld Twitter chat. What follows is the advice Phil shared to expand our network and leverage the channel for career growth. And be sure to read the Storify from our chat to discover additional tips and tricks from our community.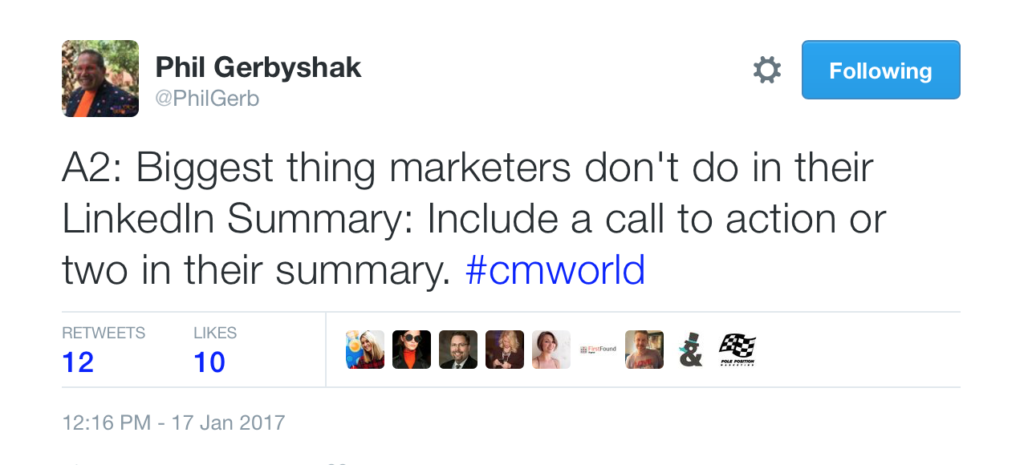 Be active
To get the most of any social media channel, you must remain active. This is especially true on LinkedIn. Keeping your profile current gives your network the most accurate description of your skillset. Regularly sharing updates and relevant links highlights the work you are doing. Your activity will appear in your connections' home pages so updates will increase the visibility of your profile.
A1 for me, LI is very important- it's a great networking tool, & a way to keep tabs on companies I'm interested in. I check daily! #CMWorld

— LUCYrk (@LUCYrk78) January 17, 2017
A1: last week…. I have a calendar reminder set up to check all my social profiles monthly to make sure they all match, up to date #CMWorld

— Brandie McCallum (@lttlewys) January 17, 2017
A1: I recommend you print out your profile, and the profile of your peers who do what you do, and tell YOUR story with keywords. #cmworld

— Phil Gerbyshak (@PhilGerb) January 17, 2017
A2 Treat your @LinkedInMktg profile like you would any marketing message. Be direct, benefit-driven and succinct. #CMWorld

— Mike Myers (@mikemyers614) January 17, 2017
It's o.k. to talk to strangers
Your LinkedIn network is only as valuable as the strength of your connections. Our community members have varying opinions on with whom you should include in your network, but they all suggest having a solid strategy in place. One practice includes looking at a sender's profile and determining if it is a quality connection before accepting or rejecting an invitation. The relationship should be mutually beneficial for both you and your new connection.
A3: You can connect to virtually anyone you want to connect with IF you take the time to connect with relevancy. #cmworld

— Phil Gerbyshak (@PhilGerb) January 17, 2017
A3: Don't just blindly connect with anyone. Know them or get to know them. That's how you'll both get the most value. #CMWorld pic.twitter.com/Mfe4NVc1Gg

— Jeff Reno(e) (@Renoe) January 17, 2017
A3. If the new connection doesn't respond in a timely manner or replies with a sales pitch, I remove them. #CMWorld

— Anh Nguyen (@AnhTNguyen) January 17, 2017
a3: Always connect with people you know. Stay away from those you don't. It dilutes the potency of your network. #cmworld

— Maureen Jann (@MaureenOnPoint) January 17, 2017
What tips and tricks do you use to make the most of LinkedIn? Let us know in the comments below.
Want to network with thousands of marketers from around the globe? Join the the Content Marketing Institute LinkedIn Group.
The post Refreshing Your LinkedIn Profile: A #CMWorld Chat With Phil Gerbyshak appeared first on .