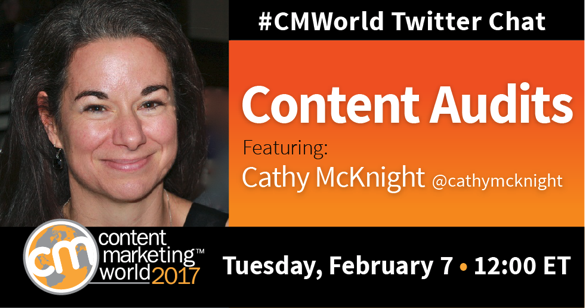 Organizations looking to be successful in their content marketing must evaluate the assets they own. Brands can conduct a content audit to identify and analyze the value of its resources. While critical to a brand, we're not just talking about words and images. A comprehensive audit includes print, audio, video, presentations – every piece of content that a customer may encounter. An audit might also focus on internal-facing content.
Co-founder of Digital Clarity Group Cathy McKnight joined us for a recent #CMWorld Twitter chat. She provided insights to help marketers navigate the content audit process. Her thoughts are included below. And don't miss our Storify from the chat to read additional insights from our #CMWorld community.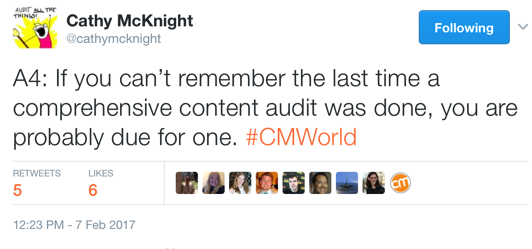 Know what to look for
A content audit may be overwhelming for marketers, but by focusing on certain insights, an audit can uncover – and solve – many problems facing your customers and your team.
A2 A content audit lets you see content by purpose and stage then ID the gaps. Necessary to prioritize efforts. #CMWorld

— Carla Johnson (@CarlaJohnson) February 7, 2017
A2: Content Audit Insight #6: Ensure content alignment with brand strategy and standards. #ContentAudit #CMWorld

— Cathy McKnight (@cathymcknight) February 7, 2017
A2 Find content that is NOT being used, as well as content that can be RE-USED elsewhere. #cmworld

— Dennis Shiao ⛷ (@dshiao) February 7, 2017
Load your toolkit
To conduct a full content audit, patience is required. Mapping out your site can take time. That's why it's helpful to possess an arsenal of tools to conduct the audit.
@CMIContent A5: Not the first to say it, but a well organized spreadsheet is probably the most important. And your analytics #CMWorld

— Kristen Hicks (@atxcopywriter) February 7, 2017
A5 Spreadsheet, Evernote, or MindMaps software? #CMWorld Mind maps allow multiple tags and filterable layers of detail

— Roger C. Parker (@Rogercparker) February 7, 2017
A5 GA for sure but would love to hear some great ideas here! #CMWorld pic.twitter.com/aXtSlSqXZA

— PolePositionMkg (@PolePositionMkg) February 7, 2017
A5: Content audit tool #5: People. Tools can get the information, but it will take human factor to make the decisions. #CMWorld

— Cathy McKnight (@cathymcknight) February 7, 2017
If you'd like to read more about content audits, check out these resources on the Content Marketing Institute blog.
What tips and tricks do you use when conducting a content audit? Let us know in the comments below.
Want to know more about executing a content audit that will make an immediate impact on your content marketing? Attend Cathy McKnight's session at Intelligent Content Conference. Take $100 off registration when you sign up with code SM100.
The post Content Audits: A #CMWorld Chat With Cathy McKnight appeared first on .