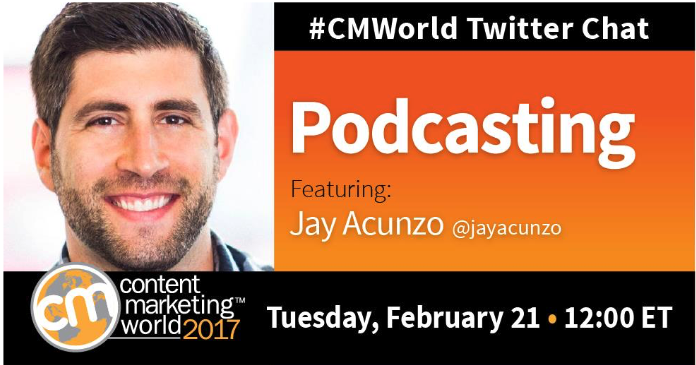 Content marketing comes in all shapes and sizes. Think blog posts, video, and interactive content. And now, marketers can add podcasts to the list. In fact, 12% of marketers use podcasts as a content marketing tactic, according to CMI 2017 B2B research.
There is a broad appeal to podcasting. Consumers, can listen to podcasts quickly and on-the go. And for marketers, podcasts pave the way for a very intimate relationship. Listeners get to know you and your brand at a deeper level, providing a strong foundation for growth.
On a recent #CMWorld Twitter chat, we discussed the state of podcasting with award-winning podcaster Jay Acunzo. What follows are some of the many highlights of the chat. Looking to start a podcast? Want to strengthen one you produce? Make sure to check out our Storify recap for more insights.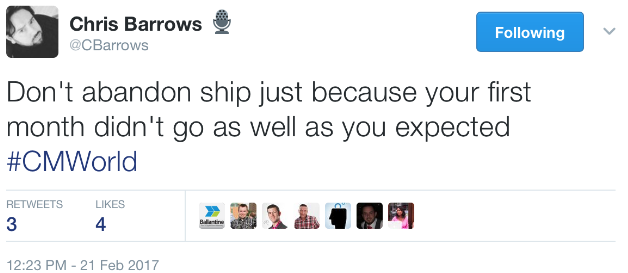 Commit and Reap Benefits
Podcasting takes work. Marketers must commit to producing a podcast. Building an audience takes time. And brands must dedicate themselves to following a consistent publishing and promotional schedule. But with commitment comes many benefits.
A2: Podcast for nurturing & loyalty. I can get 10, 20, 30, 40 min. of audience's time if I'm good at it. WOW. In 2017? Huge #CMWorld pic.twitter.com/JDSgIYD2Cp

— Jay Acunzo ? (@jayacunzo) February 21, 2017
A2: Podcasts are great for helping content marketing come alive. Bring in guests to talk about topics that complement your strategy #cmworld

— MARKETING (@marketingnw) February 21, 2017
A2: Podcasting is a way to reach people at a time they're very receptive. I listen mostly while driving…no other distractions. #CMWorld https://t.co/TgHlSDBOFc

— Jeremy Bednarski (@JeremyBednarski) February 21, 2017
Remember Your Audience
We know. We sound like a broken podcast – we mean, a broken record. But listeners will decide the success of your podcast. What format your podcasts takes, what content it includes, and how it is digested are all factors that will be determined by your audience.
A2a Big question you HAVE to ask though is, will YOUR audience benefit from a podcast? That can be hard to answer in some cases. #CMWorld

— Ben H. Rome (@bhrome) February 21, 2017
A3: Is your audience actually interested in the podcast format? You want to make sure they'll tune in. #CMWorld

— Express Writers (@ExpWriters) February 21, 2017
A6; Podcasts can be repurposed as blog posts, white papers, videos (@unpodcast), almost anything. What does your audience prefer? #CMWorld

— Mike Myers (@mikemyers614) February 21, 2017
Here are a few resources mentioned by chat participants:
Acunzo recommends the book Out on the Wire: the Storytelling Secrets of the New Masters of Radio by Jessica Abel.
What are some of your favorite podcasts? Let us know in the comments below for a chance to be featured in an upcoming blog post.
Don't just listen to Jay Acunzo on his podcast. Meet him in real life too! Jay will be at Content Marketing World. Register before March 3, 2017, to secure Super Early Bird rates. Use code SM100 to save an extra $100.
The post Podcasting: A #CMWorld Chat with Jay Acunzo appeared first on .