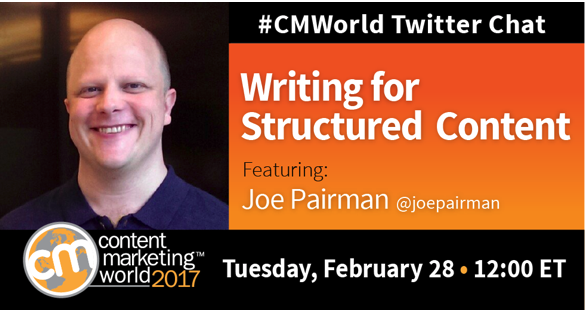 With the high use of mobile devices, structured content allows information to be available anytime and anywhere. Structured content can transform how people find, share and use information.
On a recent #CMWorld Twitter chat, we were joined by Joe Pairman, who shared his tips for best using structured content. We couldn't fit all the chat's terrific insights in this post, so be sure to check out our Storify recap for more.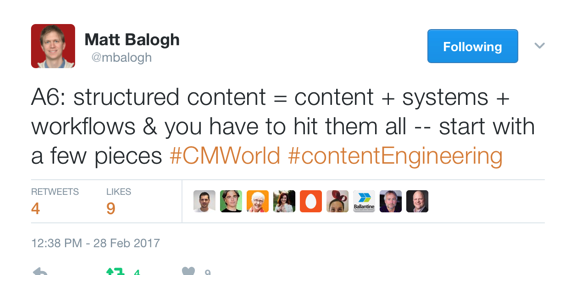 Beneficial to (Nearly) Everyone
Structured content is intelligent content, and many organizations can certainly gain from its use. There are companies in which structured content may be overkill, but for organizations with much content, many products across several languages, content that's appropriately structured is beneficial.
A3b Any organization that wants to deliver targeted / personalized / findable chunks of info to customers can certainly benefit. #cmworld

— Joe Pairman (@joepairman) February 28, 2017
A3. Anybody that wants to REPURPOSE content can benefit from STRUCTURED Content. #cmworld

— Tod Cordill (@todcordill) February 28, 2017
@CMIContent A3: Any brand with the resources to produce a consistent, entertaining piece of content around a theme #CMWorld

— Vishal Rose? (@Vishal_Rose) February 28, 2017
With Benefits Come Challenges
As we continue to grow and develop our content, it's important to understand how the benefits of structured content affects the work we do as marketers. Barriers do exist. But you may find benefits outweigh the risks.
A7 By definition, there's more overhead in the beginning stage (defining the structure). But do it well, and magic happens! #cmworld

— Dennis Shiao ⛷ (@dshiao) February 28, 2017
A7: Getting people in your organization (esp larger ones) to buy-in and see the value; spend the time and money. #CMWorld

— Mike Myers (@mikemyers614) February 28, 2017
A7a @joepairman Early conversion to DITA/structure found some of team not willing to migrate to new tool. Most stayed on old tool. #CMWorld https://t.co/M94t6da9Ko

— Ed Marsh (@edmarsh) February 28, 2017
Pairman and our chat participants offered several online resources on the topic:
What has been your experience with structured content? Let us know in the comments below.
Discover how structured content can best benefit your organization. Attend Joe Pairman's workshop at Intelligent Content Conference. Code SM100 saves you $100 at checkout.
The post Writing for Structured Content: A #CMWorld Chat with Joe Pairman appeared first on .