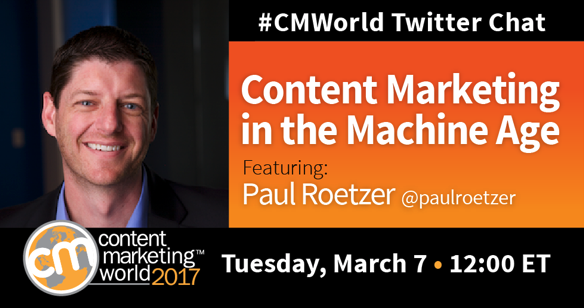 Artificial intelligence (AI) may sound like it comes out of a thriller flick, but today, AI is making marketing more science than art. On a recent #CMWorld Twitter chat, Paul Roetzer, founder of PR 20/20 and the creator of the Marketing Artificial Intelligence Institute, discussed the future of content marketing. And the future looks bright. What follows is a recap of Roetzer's chat, including why he believes AI's impact on marketing will be significant. For more on the topic, be sure to check out our Storify.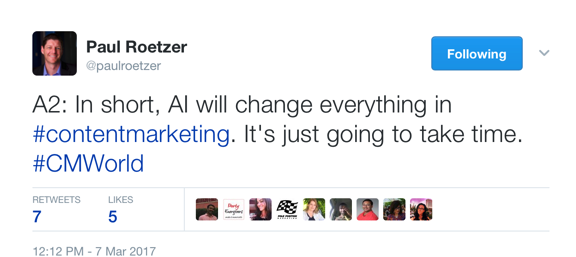 Who benefits? Marketers have mixed feelings.
A7: So large enterprises are more likely to see short-term benefits from AI investments. #CMWorld (2/3)

— Paul Roetzer (@paulroetzer) March 7, 2017
A7: I don't think it's a choice anymore. Technology will be in the hands of everyone soon. Brands need to get smart about AI. #CMWorld

— Mike Myers (@mikemyers614) March 7, 2017
A7 SMBs are an ideal group for AI solutions. They are prone to share what they know as kind of an "open source" sharing community. #CMWorld

— Amy Bryson (@abryson) March 7, 2017
Leverage AI now.
A4: Content marketers have to become increasingly comfortable with the pace of technology change, and data. #CMWorld (1/4) https://t.co/2yRQD6D3s9

— Paul Roetzer (@paulroetzer) March 7, 2017
A4: The number one skill is, to understand how AI works, #cmworld

— Manuel Feldmann (@ManuelFeldmann) March 7, 2017
A4: I think it's less about skills, more about characteristics. You've got to be inquisitive, tech-embracing. #CMWorld https://t.co/zKeaxCYqqc

— Stacey Sayer (@sassymarketeer) March 7, 2017
Roetzer also shared with chat participants several resources on the topic:
What are the most exciting applications of AI you're seeing right now? Let us know in the comments below.
Are you ready to take your content strategy to the next level? Hear Paul Roetzer speak about the path to a more (artificially) intelligent future at Intelligent Content Conference. Use code SM100 to save an extra $100.
The post Content Marketing in the Machine Age: A #CMWorld Chat with Paul Roetzer appeared first on .