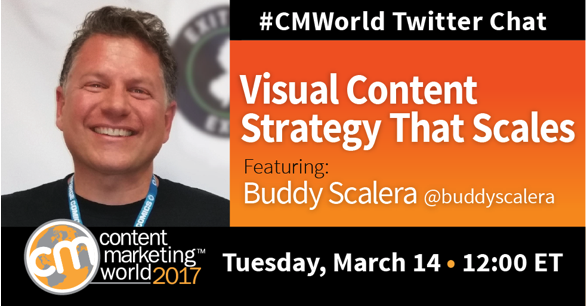 These days, words aren't enough to keep customers engaged. As a result, marketers are creating more visual content to captivate audiences. Visual content provides huge opportunities for brands. Yet it can present many challenges to their content marketing efforts. How can today's marketers find success? To find the answer, we invited special guest Buddy Scalera to join us on a recent #CMWorld Twitter chat. Scalera is a healthcare content strategist and comic book writer. He discussed how brands can empower themselves to create good visual content and how they can scale it across the organization. Our Storify recap also provides additional thoughts, so be sure to check it out.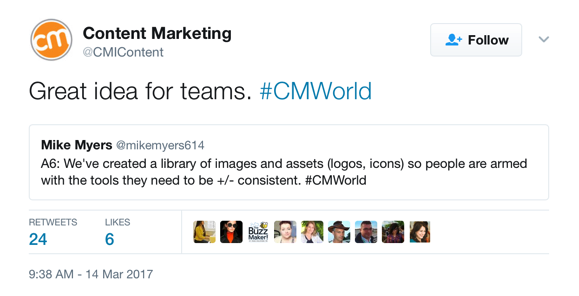 Map out the user's journey
Content marketing helps us engage customers at various stages of their journey. But determining which type of content is effective at each stage can be a problem. Understanding your audience will help you craft a documented content strategy that can include your visual content efforts.
A1: Visual content strategy and content marketing strategy are unified in alignment with the user journey #CMWorld

— Matt Balogh (@mbalogh) March 14, 2017
A5: Great #visual content answers questions & motivates action at relevant touch points in a journey. #cmworld 2/2

— Buddy Scalera (@BuddyScalera) March 14, 2017
A5: Plan points of the journey you need to provide a visual presence. Don't assume that everything will work with/without a visual. #CMWorld

— Joseph Kalinowski (@jkkalinowski) March 14, 2017
A5. Your visual content needs to have consistent elements that identifies it and guides the #CustomerJourney. #cmworld

— Tod Cordill (@todcordill) March 14, 2017
Be a storyteller
Content marketing is about telling a story, and visual content can help brands evoke emotion. With these tips from our community, marketers can produce powerful visuals that leave an impression.
Q8: Always start with the "why are we doing this" #cmworld

— Lisa Murton Beets (@LisaBeets) March 14, 2017
@CMIContent a8 Watch others, Listen, LEARN & Just jump into it! Always my thought – regardless the task. #CMWorld

— Debi Norton (@BRAVOMedia1) March 14, 2017
A8: Take a design class. Build an infographic. Go to conferences & take #sketchnotes. Make mistakes & learn from them, #CMWorld 3/4 pic.twitter.com/o6KFRrOi98

— Buddy Scalera (@BuddyScalera) March 14, 2017
A8: How to get better? Practice. Pay attention to what appeals to you & your targets. Then practice more & seek help if needed. #cmworld

— Shannah Hayley (@shannahhayley) March 14, 2017
Have you seen good examples of visual content you'd like to share with our community? Let us know in the comments below. Don't rely on a stock photo. Smile big and take a picture with Buddy Scalera in real life. Meet him at Content Marketing World in September. Sign up with code SM100 to save $100 at checkout.
The post Visual Content Strategy that Scales: A #CMWorld Chat with Buddy Scalera appeared first on .