This article is written by Krissy Leskovec, program manager of the Content Marketing Awards, the industry's leading and longest-running content marketing awards program. This year's awards are now accepting entries until April 21, 2017.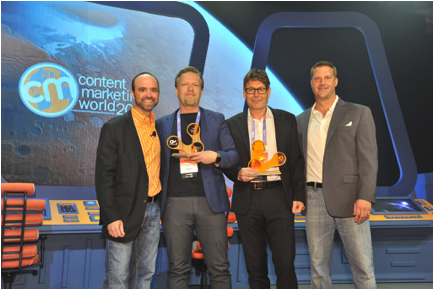 Were you at Content Marketing World last year? Then you may have seen the Content Marketing Awards big winners announced on stage before Mark Hamill's closing keynote. Now is your opportunity to try for your chance to be on the main stage accepting an award for your brand or agency! Read on to see how to make your entry award-worthy.
Last year after the awards program, and then also throughout the year, I have consistently been asked the same few questions: "What exactly should I include with my entry?" "What did last year's winning entries look like?" and "What are the judges looking for?"
The answer, simply put, is details.
The basics
Strategy – we want to know the goals of your project and the strategy used to attain them.
Results – tell us what the results from that strategy were.
Data – include measureable results, and/or any supporting documentation that proves your results.
Our other biggest challenge is great and cool campaigns that aren't content marketing. To be sure your entry qualifies, check out Joe Pulizzi's definition of content marketing to be sure your entry fits:
a strategic marketing approach focused on creating and distributing valuable, relevant, and consistent content to attract and retain a clearly-defined audience – and, ultimately, to drive profitable customer action.
All of this can be found on the Content Marketing Awards website. Visit for a full list of the 92 categories covering all aspects of content marketing – from strategy to distribution, from design to editorial. We're excited for some new categories this year, including one on influencer marketing.
Digging into the entry process
Take advantage of all the ways you can show off your entry to the judges.
Supporting digital assets – The online entry form has room for up to 10 attachments and 10 URLs. Use some of those fields to fill us in on how you increased subscribers or sales, or what relevant buyer/audience concerns you addressed. Tell us your story, as the more we really get to understand your strategy and process, the better we can evaluate.
Print materials – if the category name includes the word "Print" then you must include three copies of the print materials for your entry. Include the actual piece of content, not a photocopy. If the category name does not indicate Print, use the attachment and URL fields to include your content. If you feel you need to include print materials, be sure to send three copies of those materials.
A winning entry – One example of a 2016 winning entry showing best practices in submitting is the 2016 Highest Subscriber Growth winner, The Intronis Blog – Intronis MSP Solutions by Barracuda. The summary clearly defined the strategy, audience, goals, and performance, and supporting materials were included with the entry. (Shared from Intronis/Barracuda, as quoted directly from their entry. Actual subscriber and growth numbers removed by CMI for the purposes of this post):
SUMMARY:
The situation:
Intronis provides cloud backup and disaster recovery solutions to managed service providers (MSPs). In other words, we sell to IT channel resellers who use our solutions to protect small businesses' critical data and help them recover when something goes wrong, like a server crash or malware infection.
Most of the MSPs we're targeting are small business owners themselves. Many started out as technicians at larger companies and decided to branch out on their own, so they have the technical chops but not necessarily the business know-how. We've found that they're looking for content that will help them run a better business, and we wanted to establish the Intronis blog as their go-to resource for that information. And it's clear we were onto something. Blog subscribers have increased XXX percent since January 2015.
The strategy:
In early 2015, we refocused our strategy for the Intronis blog, streamlining from three separate blogs (Industry and Tech, Partner Success, and MSP Business Development) to one central blog. We also established a new mission statement (To become a trusted partner by providing valuable information that empowers MSPs to improve and grow their businesses.) and used that mission to guide our content choices.
Approaching our content as if we were creating Intronis: The Magazine, we established a number of regular blog features designed to keep readers coming back for more:
Ask Intronis – A weekly advice column designed to help MSPs tackle common problems
Cloud 5 – A roundup of the most important cloud news of the week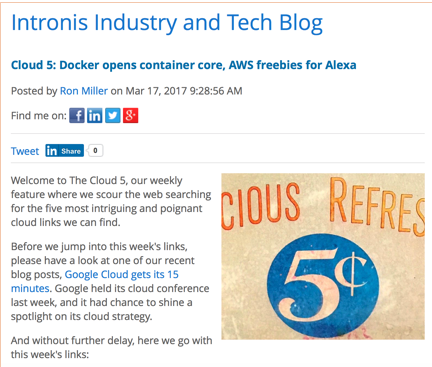 Recipes for Success – A series of step-by-step how-to guides and videos
The MSPs's Book Shelf – A monthly book review
We also reached out to a number of IT channel experts and got them to contribute regular monthly guest posts, often coordinating with a joint webinar.
The departments of our "magazine" are the five topic areas we focus on: Sales and Marketing, Cyber Security, The Cloud, MSP Best Practices, and Backup and Disaster Recovery.
Our features are the gated content we create for the website, such as The MSP's Ultimate Guide to Cold Calling, and an MSP business plan template. We also revamped our CTA strategy, using more visual CTAs and testing different placement to drive more traffic to these content pieces.
The results:
We ran a few email campaigns designed to encourage prospects to subscribe to the blog, and we had some success, growing our subscriber base by 70 percent between January and September. We also added a new subscription bar on the blog and tested different pop-ups.
The big change came when we added a checkbox to our webinar registration form, letting MSPs opt in to a blog subscription when they register for a webinar. (We hold roughly one per week.) That's when we started seeing a dramatic increase in blog subscribers. Our blog subscribers went up XXX percent from Q3 to Q4, and we've continued to add XXX to XXX per month since. We currently have XXX blog subscribers, a XXX percent increase since January 2015.
They also included a visual graph showing their results: Intronis blog subscribers.pptx and six URLs to different blog posts, such as this one: http://www.intronis.com/recipes-for-success/.
Just the facts
What next? Well, we'd love to see your work. Consider entering your best content marketing into our 2017 awards program.
Regular deadline: April 21, 2017 ($225/entry)
Late deadline: April 28, 2017 ($275/entry)
Additionally, are you an agency or did your agency help you create the content marketing that you're submitting? Nominate them for our Content Marketing Agency of the Year. We have two agency awards, one for 1-99 employees, and one for 100+ employees. This is a $250 add-on, but worth a small fee for the bragging rights of being a leading agency in this growing and critical discipline.
In July, we'll announce the winners and finalists of each of the 92 categories. Then each category winner will be considered for the ultimate award, the Content Marketing Awards Project of the Year.
Finally, our editorial team scours the industry all year to find content marketing practitioners from brands all over the world to be named our Content Marketer of the Year. This award is not one that you can enter, but this award is presented at the same time at Content Marketing World.
These four big awards, Project of the Year, Agency of the Year (1-99 employees), Agency of the Year (100+ employees), and Content Marketer of the Year will all be announced on the main stage at Content Marketing World 2017, taking place September 5-8, 2017 in Cleveland.
It's an exciting time in our industry and we're thrilled that you're part of it. We'd love to see your work, so please make sure you get it all in by April 21 (or April 28, for our late deadline).
Do you have questions on your submission or anything else awards-related? Please email me at cmi_awards@ubm.com. I'm looking forward to seeing your work!
To see the awards ceremony live, as well as 200+ speakers, 100+ sessions and so much more, come to Content Marketing World this September. Code BLOG100 saves $100! Register today!
The post Content Marketing Awards – Are your entries award-worthy? appeared first on .