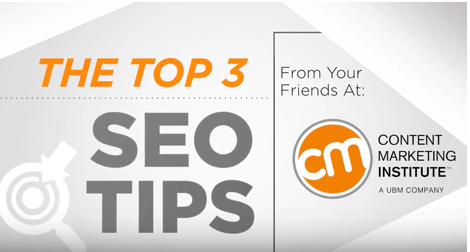 Is SEO still keen in 2017?
Yes it is, and here are the top 3 SEO tips to get you started
Okay, let's say you're new to this whole search engine optimization (SEO) thing or maybe it's been a while. Where should you go to learn about it? Here's a tip: start with someone who knows what they're talking about.
Clearly, in 2017, search engines remain a vital way your brand gets attention – or doesn't. Now, you don't have to be able to write the code yourself. But, as a marketer, you need to understand the basics of SEO.
Fortunately, one of the easiest to understand experts on anything, Andy Crestodina, will break this down for us in a quick video cleverly titled, "The top 3 SEO tips."
It's genius. Just watch:
Great stuff, right? Let's break down some of what Andy shared.
Tip #1: Optimize your site map
I love this one. Use it on your friends, because it's true: Google doesn't rank websites. Google ranks web pages. Are you using every one of your website's pages effectively? If you want to make sure, here are some ideas from Andy:
Make sure the structure of your website reflects your key word strategy
Never have a single page with all your products or services on it, you're missing out on a great opportunity to rank for those terms
Have a page for each phrase you want to rank for
Tip #2: Use your target phrase
This is the most basic job of search optimizers (and, yes, that's a thing, because Andy just said it). Google and other search engines are looking for things to indicate relevance. So, how do you do it? Use the phrase you want to rank for.
Like this:
Search each page on your site (just hit Control+F) for the relevant phrase you're trying to rank for. It should appear in the title tag, in the header (H1) and in the body (probably a couple of times for every 500 words). You know, like good copy that helps people with something.
That's it! It's not that complicated.
Tip #3: Build relationships
Pay attention to others who create content. Andy calls this the 1% rule. One percent of people create the internet. Get to know these people, they are your friends (or will be). More helpful tips from Andy:
If the first half of SEO is relevance, the other half is authority
Don't build links, attract links
Get to know media companies, podcasters, journalists, video producers, bloggers, blog editors, academic researchers, event producers
They need you, you need them. Collaborate and you both win!
So, there you go, a great head start for those who are just setting out on the SEO journey – or a great reminder for those of us who may have been away from SEO for a while. Want more SEO goodness from Andy? Check out his ebook on SEO: How to publish more and rank higher.
By the way, take a look back through this article and see if you can figure out what key phrase (or acronym…hint, hint) we're trying to be relevant for here. Can you guess?
Sorry, Andy, no guesses from you.
If you want to learn more about the critical topics all marketers need to know when adding Content Marketing to the mix, like search engine optimization (SEO), learn from the experts like Andy. Come to Content Marketing World 2017, September 5-8 in Cleveland. Code BLOG100 saves $100! Register today!

The post Top 3 SEO Tips appeared first on .