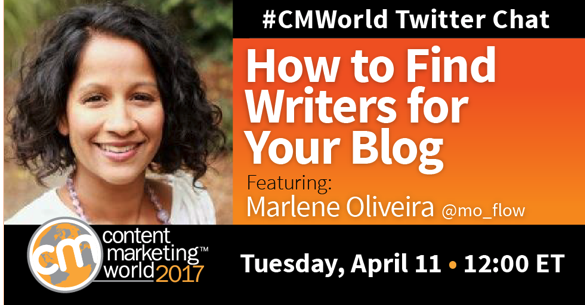 We need content, and a lot of it. This means marketers are challenged to find ways to support their content creation. That means we're always on the lookout for new writers. But where can you find writers that bring value to your audience? And how can you find them when you're on a budget? On a recent #CMWorld Twitter chat, our community shared their thoughts with special guest Marlene Oliveira. Oliveira is a copywriter and managing editor of the Nonprofit MarCommunity Blog.
You can read all their insights (and the many options they suggested) in our Storify. A brief recap can be found below.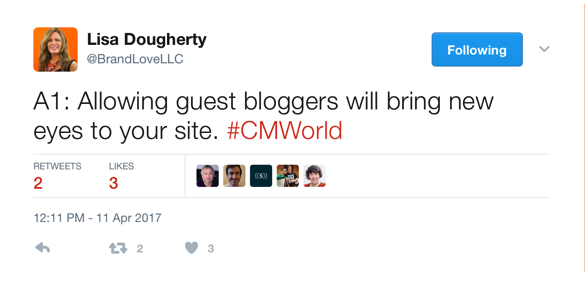 Identify the Right People
Working with guest bloggers can deliver many benefits. But these benefits are only possible when you create a true partnership with the right contributors.
A2 Don't use contributors whose views are totally contrary, even hostile to yours. Readers will be confused. #CMWorld

— Jim Katzaman (@JKatzaman) April 11, 2017
A2: Guest contributors are a reflection of your brand…good and bad. Bad grammar, harsh or controversial views reflect on you. #CMWorld

— Mike Myers (@mikemyers614) April 11, 2017
A2 Some guest contributors are actually SEO personas not actual people. Vetting can be tricky. #cmworld https://t.co/5EAvBz0cyv

— Erika Heald (@SFerika) April 11, 2017
Look to the Unconventional
There are many places where you can find writers. Some locations are less traditional and often overlooked. Some of the best writers may not "advertise" their services. To find them, we need to look in unconventional spots.
A8: Start w/yr personal network. Check out speakers at industry events. Keep blog in mind at networking events, conferences. #cmworld

— Marlene Oliveira (@mo_flow) April 11, 2017
@CMIContent A8: Search in Buzzsumo for popular recent content around a keyword and find new upcoming authors 1/2 #CMWorld

— Ivan Kreimer (@IvanKreimer) April 11, 2017
@CMIContent A8: Well, we may be bias, but an influencer agency is a great place to start for brand-related content creation! #CMWorld

— Sway Group (@SwayGroup) April 11, 2017
A8: Also, blog comments are a great way to find blog contributors. #CMWorld

— Lisa Dougherty (@BrandLoveLLC) April 11, 2017
Do you invite others to write for your blog? Tell us about your experiences in the comments below.
Want to network with some of the best content creators on the planet? Attend Content Marketing World this September in Cleveland, OH. Register before June 2, 2017, to secure Early Bird rates. Use code SM100 to save an extra $100.
The post How to Find Writers for Your Blog: A #CMWorld Chat with Marlene Oliveira appeared first on .