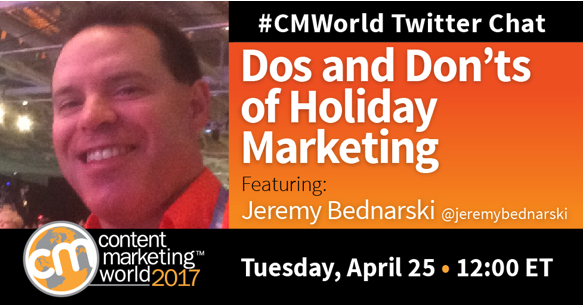 When holidays approach, it seems brands rush to join the conversation. But should they? And what about non-traditional holidays such as #NationalSelfieDay or the Super Bowl? You can fill your content calendar with national holidays, notable events, and trending topics, but which make the most sense for your brand?
On a recent #CMWorld Twitter chat, we discussed the dos and don'ts of holiday marketing with Jeremy Bednarski, Marketing Director at Goldstein Group Communications. A few insights are featured in this blog post. Looking to fuel your own marketing ideas? Be sure to check out our Storify recap.
Evoke emotion
Our customers make decisions emotionally. Holidays provide brands an opportunity to build a bond with its audience. They are a great time to connect and focus on the feelings, like joy and interconnectedness, holidays evoke.
A1: Brands can use holidays to show their human side, as long as it's sincere. But, they need to be careful of hopping on a trend. #CMWorld

— Jeremy Bednarski (@JeremyBednarski) April 25, 2017
A2: Non-traditional holidays are inclusive – they help you connect on a personal/social level w/ your aud. [when relevant] #cmworld

— Elizabeth Greenberg (@BettaBeYou) April 25, 2017
A1. If you can find a way to use a holiday to your advantage or make people smile with a silly meme—go for it! #CMWorld

— Carole Cudnik (@cacudnik) April 25, 2017
@CMIContent A1: National Talk Like a Pirate day isn't relevant to most but I still enjoy some good Pirate talk even if it is a little odd. #CMWorld pic.twitter.com/IlrSe5B1O4

— Jeff Reno(e) (@Renoe) April 25, 2017
R-E-S-P-E-C-T
Celebrating holidays is fun. But be sensitive to the belief of others. Don't assume everyone celebrates the same way the brand and its team does. And most importantly, show respect for the customs and traditions of your customers.
A3: Vet the ideas through multiple people to see if there are any aspects that could be offensive. #CMWorld

— Jeremy Bednarski (@JeremyBednarski) April 25, 2017
A3: Avoid holiday catastrophe by stating the perspective, honoring inclusion and delighting those who decide to participate. #CMWorld

— Maureen Jann (@MaureenOnPoint) April 25, 2017
@CMIContent A3: Knowing your people and what matters most to them helps limit the offensive content. Unfortunately, you can't please everyone. #cmworld

— Mt. Valley Marketing (@MtValleyMktg) April 25, 2017
@CMIContent A3) RESEARCH! So many times we've seen brands have PR nightmares b/c the content they published wasn't well thought out. #CMWorld pic.twitter.com/1m0DEa3rmW

— Jason Schemmel (@JasonSchemmel) April 25, 2017
A3: Key thumbrule: if you don't really understand it, don't try to be a part of it. If it's not part of you it'll seem hollow. #cmworld

— Jeremy Jones ️ (@jerejone) April 25, 2017
Want to be prepared for the next non-traditional holiday? Check out this list by Sprout Social.
What holidays do you celebrate as a brand? What are some of your favorite marketing holiday campaigns? Let us know in the comments below.
Content Marketing World is our favorite holiday! Don't miss your chance to attend the seventh annual #CMWorld in Cleveland, Ohio. Register before June 3, 2017, to secure Early Bird rates. Use code SM100 at checkout to save an extra $100.
The post Dos and Don'ts of Holiday Marketing: A #CMWorld Chat with Jeremy Bednarski appeared first on .