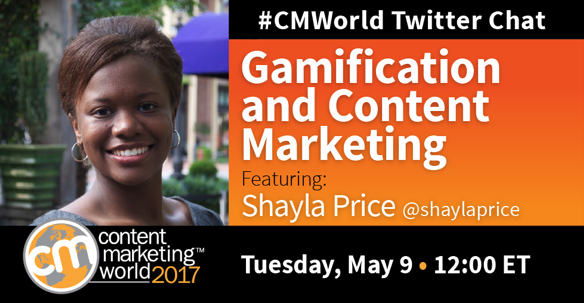 Online gaming have brought gamification to the forefront as part of an overall content marketing strategy. The best examples of gamification both educates and entertains our audiences. Content comes alive with activities like games, quizzes, and contests. Gamification puts your audience directly at the center of the action, making it a win-win for consumers and brands alike.
On a recent #CMWorld Twitter chat, we discussed what marketers need to know about gamification and how it can strengthen our content marketing efforts. What follows are highlights of the chat. Looking for more insights? Be sure to check out our Storify recap.
Think About the Funnel
When looking to attract, engage, and convert customers, at which stage should you introduce gamification? Our community had varying answers on which stage would be best. But they all agreed: Games are designed to foster two-way relationships with your audience.
A2 Any stage, really. You NEED to know your audience and your goals for the best fit. #CMWorld

— Ben H. Rome (@bhrome) May 9, 2017
A2) After the user has signed up: encourage them to keep engaging and attract new users #CMWorld

— Ben Hollom (@benhollom) May 9, 2017
A2: When consumers are in the consideration stage, gamification can get you into the consideration set. #CMWorld

— Mike Myers (@mikemyers614) May 9, 2017
A2: Gamification is great for retaining customers post-purchase and ensuring that your brand is top of mind with those people. #CMWorld

— Mallie Rust (@malliefe2o3) May 9, 2017
Influence Behavior
Audiences will take notice of your content if it goes above and beyond their needs – and they will return again and again. Spirited competition can help your brand gain attention and can introduce your content in fun and memorable ways. Make your audience feel like winners by rewarding them for engaging with your content.
A5: Leader boards, specific timeframe that the game is available, prizes (real or virtual) #cmworld https://t.co/PMfbvXVknf

— Jeremy Bednarski (@JeremyBednarski) May 9, 2017
A5.b.: Let users unlock levels to earn badges. Create urgency with countdown clocks. #CMWorld

— Shayla Price (@shaylaprice) May 9, 2017
A5 Privileges work well. Incent participants to attain a capability that others don't yet have #cmworld

— Dennis Shiao ✍️ (@dshiao) May 9, 2017
What gamification examples stand out to you? Let us know in the comments below.
Score high points with the boss when you attend Content Marketing World. Register before June 3, 2017, to secure Early Bird rates. Use code SM100 to save an extra $100.
The post Gamification and Content Marketing: A #CMWorld Chat with Shayla Price appeared first on .